Are there any beauty benefits of peppermint essential oil? Yes of course! Check out 19 amazing benefits of this minty oil for beautiful skin, hair & more!
Peppermint essential oil is minty and refreshing! It is well known for relieving pain and soothing sinuses. But it also has amazing beauty benefits you have simply got to find out ASAP!
Now, let's quickly get to know the ingredient profile of peppermint oil and then jump on to its beauty benefits!
Peppermint Essential Oil Ingredient Profile
♥ Scientific Name:
Mentha piperita
♥ Other Names:
Mentha piperita oil, peppermint oil
♥ Origin:
Peppermint is native to the Mediterranean
♥ Color and Smell:
It has a clear to pale yellow color. Peppermint essential oil has a fresh sharp minty scent.
♥ Texture:
It has a thin consistency.
♥ Shelf Life:
4 years
♥ Potential for Irritation:
Peppermint oil is non-toxic and non-irritant but sensitization may occur due to the menthol content. Do a patch test before application!
♥ Precautions & Tips
Please first do a patch test with peppermint essential oil before use. To do a patch test, mix 1 drop of peppermint essential oil in 1 tsp of carrier oil and apply it on your inner wrist. If there's no negative reaction within 60 minutes, then go ahead and use this oil!
Always dilute peppermint essential oil before application. Use a carrier oil for dilution. The dilution rate is 2 drops of peppermint oil in 1 tsp of carrier oil like olive oil, coconut oil, etc. For more info, read How to Dilute Essential Oils
Never drop peppermint oil into your eyes, ears or mucous membranes.
Do not ingest.
Keep away from children and pets.
Avoid during pregnancy.
If having any severe or chronic health problems, consult a doctor before using peppermint essential oil.
Properties of Peppermint Essential Oil
Some of the therapeutic properties of peppermint essential oil include:
Analgesic, anesthetic, antiseptic, antigalactagogue, antiphlogistic, antispasmodic, astringent, carminative, cephalic, cholagogue, cordial, decongestant, emmenagogue, expectorant, febrifuge, hepatic, nervine, stimulant, stomachic, sudorific, vasoconstrictor and vermifuge.
19 Beauty Benefits of Peppermint Essential Oil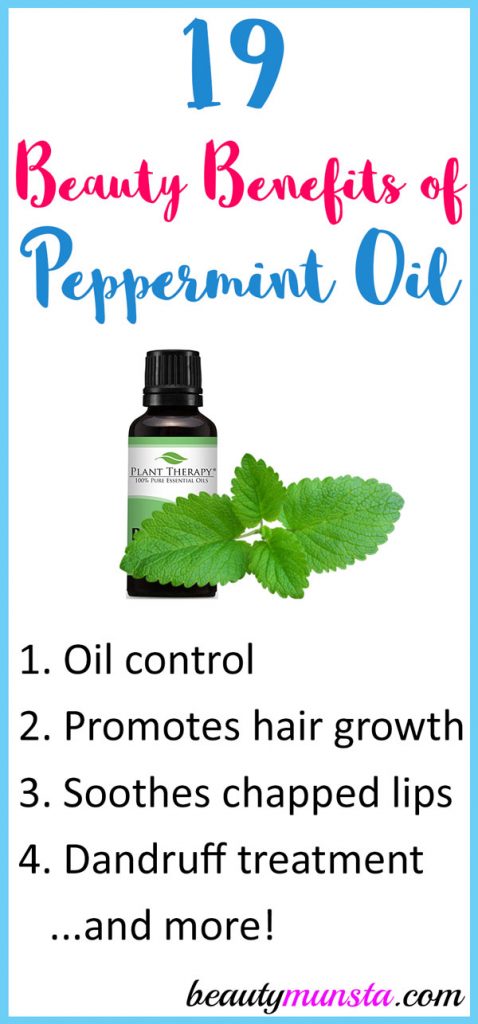 1. Promotes Blood Circulation to Skin
Peppermint essential oil is very stimulating. When applied on the skin (diluted) it promotes blood circulation which leads to healthy skin! Proper blood circulation also prevents spider veins, varicose veins, cellulite and other skin problems.
2. Controls Oily Skin
If you rub a drop of peppermint essential oil between your thumb and index finger, you'll notice how tight and 'dry' your skin becomes. That's because of peppermint's astringent properties. It removes excess oils form skin which helps control oily skin.
3. Facial Toner
Peppermint has skin toning properties! You can make a simple but effective and refreshing facial toner with it!
Peppermint Face Toner: In a spray bottle, pour ½ cup distilled water using a small funnel. Now add 1 tsp witch hazel and 4 drops peppermint essential oil. Directly after washing your face and patting it dry, mist this toner on it. Spray 6 inches away from your face with your eyes closed. Then go ahead and moisturize!
4. Reduces Skin Inflammation
The strong anti-inflammatory properties of peppermint oil help reduce skin inflammation! So if you've got acne inflammation, rosacea, eczema or psoriasis, use peppermint essential oil by diluting 1 drop of essential oil in 1 tsp of a soothing ingredient such as raw honey, aloe vera gel or shea butter.
5. Soothes Sunburn
The best essential oil for sunburn? Peppermint oil! It has anti-inflammatory properties, cooling effects and skin soothing benefits! Make a sunburn spray as follows:
Sunburn Spray: Place 1 oz of aloe vera gel in a 2 oz spray bottle and fill the rest of the bottle with distilled water. Now add 4 drops of peppermint essential oil. Cap tightly and shake well. Mist it on your sunburn several times a day for relief and speedy healing.
6. Makes Hair Shiny
Among the essential oils that make hair shiny and glossy is peppermint essential oil! It removes excess oils from hair then softens hair strands, making them silky and shiny! You can add 7 drops of peppermint essential oil to 8 oz of shampoo.
7. Gets Rid of Acne
Got acne prone skin? Peppermint oil is a great remedy! It has antiseptic properties that kill acne causing bacteria. Peppermint also reduces acne inflammation, controls excess skin oiliness and reduces the size of acne. Dilute it with aloe vera gel. Here's a nice cooling and soothing DIY acne gel to try out:
DIY Acne Gel: In a bowl, add ¼ cup of aloe vera gel, 3 drops peppermint essential oil and 3 drops tea tree essential oil. Mix well to combine the ingredients then transfer into a 2 oz amber glass jar. Apply a pea-sized amount of your face to cool and soothe acne.
8. Nail Treatment
Pamper your nails with an at-home nail treatment! Peppermint strengthens nails, prevents peeling cuticles and makes your nails shiny.
Nail Treatment: In a small glass bowl, add 5 ml castor oil and 5 ml jojoba oil. Now add 4 drops of peppermint essential oil. Mix everything with a toothpick then transfer the blend into a 10 ml roller bottle using a syringe. Roll onto your nails after doing your manicure! Then apply this blend every night for nail maintenance.
9. Calms Redness & Irritation
Skin redness and irritation caused by bug bites, eczema, psoriasis, hives, poison ivy rashes can be reduced using peppermint essential oil! Mix 2 drops of peppermint essential oil in 1 tsp of aloe vera gel. Smooth it on the affected area 3 times a day for relief.
10. Oily Hair
Just like with oily skin, peppermint oil reduces oily hair because of its astringent properties. You can open your shampoo bottle, then add 7-10 drops of peppermint essential oil (if it's an 8 oz bottle). Alternatively, get a bowl and squeeze out 1 tbsp of shampoo then add 3 drops of peppermint oil. Mix and lather up your hair! This reduces oil production on the scalp!
11. Promotes Hair Growth
Did you know that peppermint essential oil has been proven to stimulate hair growth? Yes, you can grow longer hair by giving yourself head massages with a hair oil containing peppermint essential oil! Here's the hair oil recipe:
Hair Growth Oil: In a 4 oz amber dropper bottle, add 3 oz liquid coconut oil. Now add 5 drops of peppermint essential oil, 5 drops rosemary essential oil and 5 drops lavender essential oil. Cap the bottle tightly and roll it between your palms to evenly distribute the essential oils in the coconut oil. Massage a suitable amount on your scalp for 3 minutes then shampoo your hair as usual after 1-2 hours.
12. Shrinks Large Pores
Peppermint essential oil shrinks large pores! It's astringent properties which reduce oiliness help tighten skin which diminishes the size of large pores.
13. Dandruff Treatment
Beat dandruff by adding peppermint essential oil to your shampoo! You can also make your own DIY dandruff shampoo using peppermint and tea tree essential oils! Here are the instructions:
DIY Anti-Dandruff Peppermint Shampoo: Into an old shampoo bottle, add ½ cup distilled water. Next add 1 tsp vegetable glycerin, 1 tsp jojoba oil and ¼ cup of liquid castile soap. Finally add 5 drops tea tree essential oil and 5 drops peppermint essential oil. Cap the bottle tightly and shake gently to combine the ingredients. Use as regular shampoo.
14. Anti-Aging Properties
The skin toning and tightening properties of peppermint essential oil promote anti-aging by firming sagging skin.
15. Nail Fungus Treatment
Nail fungus can be treated effective using peppermint essential oil! You can apply a drop of peppermint essential oil on a cotton ball and tape it to the affected nail with a band-aid. Also, consider doing a foot soak for toenail fungus by soaking your feet in a tub containing a gallon of hot water, ½ cup Epsom salts and 5 drops peppermint essential oil.
16. Healthy Teeth & Gums
Most toothpastes contain peppermint essential oil as one of the main ingredients. That's because peppermint oil has a high content of menthol, which freshens breath. Peppermint essential oil also kills bacteria in the mouth, removes tartar & plaque plus promotes healthy teeth and gums! You can make an easy but effective DIY toothpaste as follows:
DIY Peppermint Toothpaste: Mix 3 parts baking soda with 1 part coconut oil to get a creamy paste. Next stir in 5 drops of peppermint essential oil. Store in a clean container in your bathroom cabinet. Dip a clean toothbrush in your toothpaste and brush your teeth. It won't be foamy like regular toothpaste but it's natural, healthy and gets your teeth clean!
17. Soothes Chapped Lips
Do you love peppermint lip balm? You can make your own without the extra additives in store-bought toothpaste! Peppermint is soothing, cooling and healing for chapped lips. It also promotes naturally red lips by increasing blood flow to the surface!
18. Unclogs Blocked Pores
If you have clogged up pores, whiteheads and bumps on your face, add 2 drops of peppermint oil to a pot of boiling water for a facial steaming session. This unclogs pores and drive out gunk stuck deep within!
19. Cools Rosacea
Cool overheated skin on your face by using a peppermint facial mist! This also reduces redness and inflammation which helps naturally treat rosacea.
Cooling Rosacea Face Mist: To make a peppermint facial mist, mix 1 oz aloe vera gel and 1 oz distilled water in a spray bottle, then add 2 drops peppermint essential oil. Shake well and spray on your face with your eyes closed.
Where to Buy Peppermint Essential Oil
Always look for 100% pure high quality peppermint essential oil without additives. Do not buy fragrance oils or oils with synthetic ingredients added to them. My recommended peppermint essential oil is from Plant Therapy. You can buy a 10 ml bottle of pure peppermint essential oil here.