Got peeling dry cracked and bleeding lips? This DIY manuka honey lip balm is here to help!
Manuka honey is packed to the brim with powerful antioxidants, vitamins, minerals and medicinal compounds that make it extremely healing. It also has a very strong antibacterial effect.
It's also very moisturizing and can help soothe dry and chapped lips instantly! You can use manuka honey straight up on your lips. But make this DIY manuka honey lip balm for an easier, non-messy way to enjoy the healing powers of this special honey!
DIY Manuka Honey Lip Balm
Important Note: There many DIY honey lip balm recipes out there but they don't have a good consistency. The honey sinks to the bottom or doesn't mix well. BUT I made lip balm with honey and mine mixed up very well and it was so delicious and smelled of honey! How did I do this? Well, I did things very differently. I didn't use beeswax in my recipe and used a small blender to blend my ingredients into a smooth cream. So my recipe below will definitely work out for y'all! Don't worry about the honey not mixing in because it will! You'll see!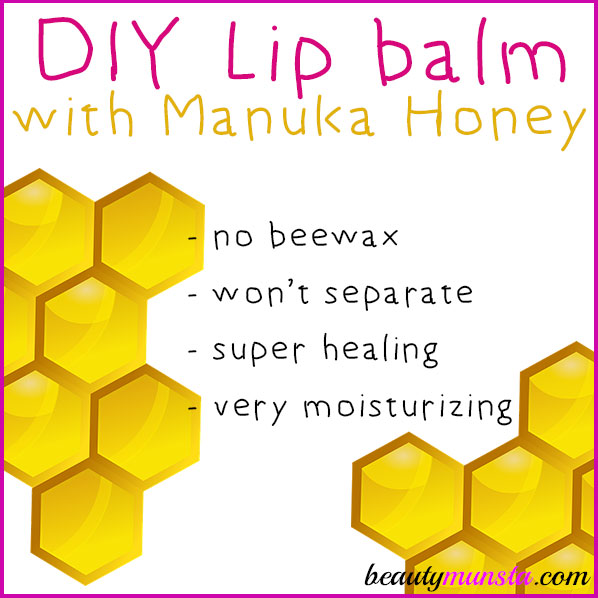 What you need
Directions
What you're going to do is simply add all ingredients into your small blender. Your shea butter should be soft. I just scoop mine out of the jar. If it's hard, please soften it by placing the it in a bowl then placing that bowl in a larger bowl of hot water. This will help soften it up.
Blend away to form a smooth cream.
Pour the cream into a round salve tin or lip balm containers.
Let the lip balm set in the refrigerator for 10 minutes.
That's it! No beeswax or double boiler melting involved! Enjoy your DIY manuka honey lip balm!