Dry peeling cuticles are unsightly, there's no doubt about that! So make sure you take care of your cuticles by never letting yourself get dehydrated.
Also, applying a moisturizer every after washing your hands helps a ton! That's where this shea butter cuticle cream comes in! It's enriched with nourishing oils such as coconut oil and shea butter. It also contains essential oils to boost moisturization and skin regeneration. Let's check out the benefits of each ingredient it contains:
Ingredient Profile
Here are the ingredients we're going to be using:
Shea butter – This as we all know, is an excellent sealant. So it preserves moisture in your cuticles, preventing dry and peeling skin. It also lubricates and protects the cuticles from damage, whether it's by cold or dry weather.
Coconut oil – Coconut oil is similar to shea butter. It easily sinks into the skin once it's applied. It also has microbial properties that protect already peeling and bleeding cuticles from infection.
Vitamin E oil – A thick lubricating oil, vitamin E oil also has antioxidant properties that protect skin from oxidative damage. It is also great for healing cuticle wound scars – you know, the ones you get when you pick at peeling cuticles.
Lavender oil – With its soothing qualities, this essential oil is good for calming dry peeling and painful cuticles. It also has antibacterial and antiseptic properties that help heal those peeling cuticles faster.
Geranium oil – This is good for skin of all types and it has cell regeneration properties that help heal peeling cuticles. It also balances sebum, which helps improve dry skin.
Okay, now that we're done looking at what each ingredient does, let's get on with the recipe!
DIY Shea Butter Cuticle Cream Recipe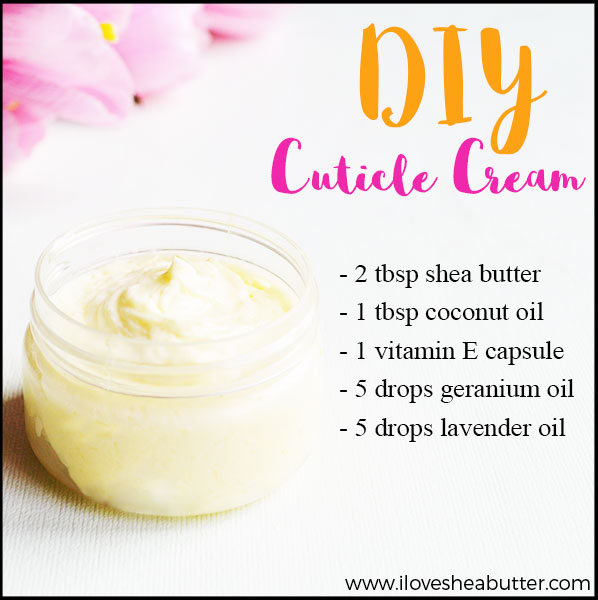 What you need
Directions
Scoop your shea butter and coconut oil into a medium sized mixing bowl.
Now using a hand mixer, beat the contents of the bowl until it forms a nice and creamy mixture. This may take a minute.
Snip off the edge of the vitamin E capsule and squeeze out the oil into the bowl. Also add the essential oils.
Whip the mixture again until everything is well combined and looks light and fluffy.
Transfer it into a sterilized container.
Your shea butter cuticle cream is ready for use!
Rub a little onto your cuticles for a minute every night before bed. Wake up to healthy and moisturized cuticles!
Have fun making and using your shea butter cuticle cream! Toodles! ~