Making your own DIY beeswax lip balm is simpler than you think! This recipe is extra sweet thanks to honey and will leave your lips feeling soft and cushiony thanks to the coconut oil!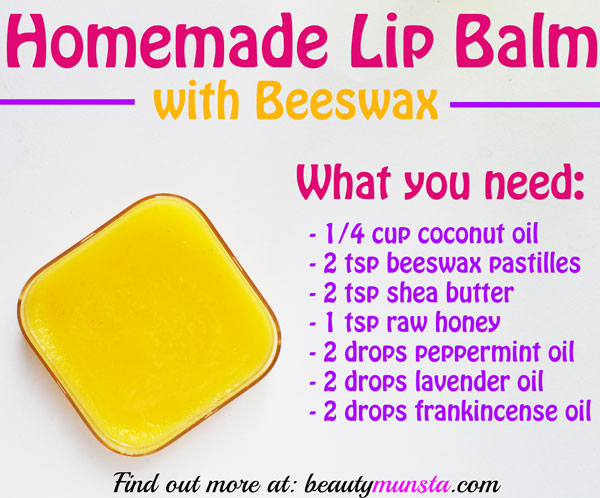 What is Beeswax and Why Do I Need It In My Lip Balm?
Beeswax is a popular ingredient in many homemade lip balm recipes. As the name suggest, beeswax is made by bees through a process of converting pollen from flowers into wax. Bees use this wax to make honeycombs. Beeswax is harvested and used to make eco-friendly candles and polishes, as well as in products like creams, salves and balms.
Homemade lip balms can be made without beeswax, but adding beeswax helps to keep the balm solid and firm. It also acts as a stabilizer, helping the balm to remain stable, without the different ingredients separating or sinking to the bottom.
Beeswax also acts as a lip sealant, creating a protective barrier above the skin and helping to retain moisture and prevent water loss. This helps prevent dry, chapped lips.
Make a Nourishing Beeswax Lip Balm
To make a nourishing beeswax lip balm, you only need 3 ingredients:
♥ Raw honey – Raw honey is rich in hundreds of active enzymes, minerals, vitamins and other nutrients. Raw honey is a complete medicinal healer and it is one of the best things you can apply to your lips. It has nourishing, moisturizing, antibacterial and antioxidant properties. It can help repair damaged cells and promote healthy regeneration of cells. If you are vegan, you can replace raw honey with organic maple syrup.
♥ Coconut Oil – Coconut oil is probably the most hyped-about health trend to hit the 21st century! Barely anyone knew about this ancient nutritional and medicinal oil a few years ago, yet today, almost everyone has a bottle in their pantries. It is rich in so many antioxidant compounds, unique essential fatty acids and other nutrients that make it a healing oil to add to your lip balm. It deeply hydrates, moisturizes and seals the lips, helps prevent infections and acts as a natural sunscreen for the lips!
♥ Peppermint Essential Oil – When applying essential oils to the lips, we have to be very careful since the chance of accidentally sucking and swallowing them is high. Not all essential oils are safe for ingestion, but peppermint oil is. This stimulating essential oil adds the extra benefit of plumping up your lips making them look rosy and voluptuous naturally!
DIY Beeswax Lip Balm Instructions
Let's get on with the recipe, shall we?
Ingredients

Directions

Using a double boiler, or a small heatproof bowl placed in a large pot of water over medium heat, melt the beeswax pastilles and the coconut oil. Stir it to combine them both together.
Once the coconut oil and beeswax have completely melted and been mixed through, take off heat and allow to cool down enough to add in the raw honey and peppermint oil. You must wait for the coconut oil-beeswax mixture to cool down slightly (to a warm temperature) before adding raw honey and essential oil in order to retain their healing properties, which may be destroyed by heat.
Stir thoroughly with a spoon to get them all well-combined.
Now pour into an old lip balm container and put it in your refrigerator to set overnight.
Your gorgeous, healing, mint-scented diy beeswax lip balm is now ready to be applied as and when needed!

Will you try out this diy beeswax lip balm? Why or why not? Please do let us know!