Yes, you can make your amazing, all natural lip balm at home WITHOUT having to use beeswax. With this beautiful no beeswax lip balm recipe, you won't even miss the beeswax at all!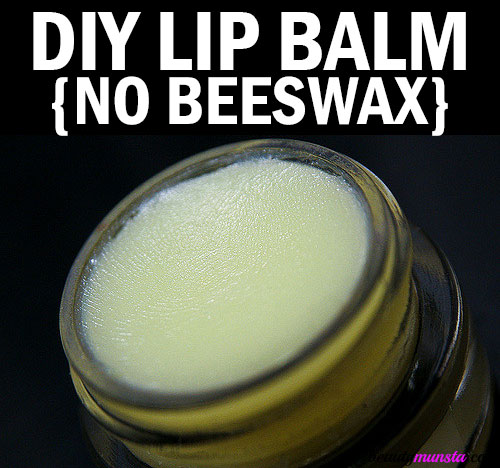 Can You Make Lip Balm without Beeswax?
Yes, yes and yes! You can absolutely make lip balm without using beeswax and you can still make a gorgeous lip balm that's just as good.
Beeswax is a favorite in homemade lip balms because it is all natural, non-toxic and safe to use. It also helps keep the lip balm firm and solid at room temperature, and it doesn't melt away, unless you leave it in an extremely hot place like your car dashboard on a searing summer day.
Beeswax also helps keep your lip balm stable so that the different ingredients don't end up separating or settling down at the bottom.
But you may want to stay away from beeswax because you ran out of it, or you don't have access to it. Perhaps you're vegan and don't want to use beeswax, which is actually harvested from bees. Then in this case, please forego the honey and use castor oil instead.
Not to worry, you can other alternatives to beeswax such as soy wax, cocoa butter wafers, candelila wax, carnauba wax or shea butter.
In this recipe, we are going to use shea butter, in particular West shea butter (Viterellia paradoxa) because it is thicker and contains more wax content than East shea butter.
Contents to Add in Your No Beeswax Lip Balm Recipe
A good lip balm will contain a moisturizing agent, a natural flavoring agent and a humectant, which helps retain moisture in the skin by sealing the top dermal layer. Only 3 ingredients are needed in this no beeswax lip balm recipe and I absolutely love how simple it is to make, while being just as effective as the beeswax added versions.
West Shea Butter (Viterellia paradoxa) – Shea butter is a natural plant butter extracted from the nuts of the African Karite tree. It is an amazing healing oil that is rich in so many nutrients that give it medicinal qualities such as soothing inflamed and irritated skin, healing cuts and burns and fighting skin infections. It also acts as a natural sunscreen. As compared to East shea butter (Viterellia nilotica), West shea butter is rich in waxy compounds and can be used as a beeswax substitute in equal amounts.
Raw Honey – Raw honey could be one of the best pampering treatments you can apply to your lips. Not only is it sweet and delicious, it is also rich in a myriad of vitamins, minerals, live enzymes and other nutrients that nourish the skin from the inside out. Raw honey is also rich in powerful antioxidants that rejuvenate the skin and repair and replace damaged skin cells
Essential Oil – Essential oils are natural plant extracts that are in a concentrated and potent form. They are also extremely aromatic and will act as the natural flavoring and fragrance ingredient in this lip balm. You can choose from a range of essential oils to use, according to what you have available or what you love best. Some great choices of essential oils to add are peppermint, lavender, grapefruit, vanilla and ginger.
Are you convinced that you can pull off this no beeswax lip balm recipe? What are we waiting for then?! Let's get right into it!
Ingredients

Directions

In a double boiler, melt your shea butter until it is completely liquefied.
Don't have a double boiler? You can also melt the shea in a pan on direct heat but make sure you use the lowest heat setting and keep stirring it constantly to prevent it from sticking to the bottom and burning. But make sure you don't heat it for too long or let it bubble and boil because this will make the shea butter grainy.
Once your shea butter is fully melted, take it off heat and allow it to cool just a little, before adding in the honey and essential oils.
Stir to get all the ingredients mixed thoroughly.
Transfer to a lip balm container and allow to set in the refrigerator overnight.
Your no beeswax lip balm is now ready for application!

Tips

Did you know you can also use this lip balm as an emergency salve for dry cuticles, cold sores, bug bites and more?!

Do you have a favorite no beeswax lip balm recipe? Please do share in the comments below!