It's easy to make a DIY pomegranate lip balm that smells just like pomegranate and looks red like pomegranate – if you have the right ingredients!
Before we look at the recipe, one important thing to note is that you can't crush real pomegranate arils and add it to this recipe. Ever noticed how store-bought stuff like lip balms don't have fresh ingredients added to them? That's because adding fresh ingredients can easily make your lip balm spoil in a matter of days. So instead, artificial fragrances are used.
Meanwhile, when you make your own lip balm, you'll know exactly what you'll be adding. Not like store-bought lip balms that can contain a slew of hidden ingredients like parfum, mineral oil and other icky additives – all of which you don't deserve to use on your pretty pouters!
Okay, now that we know homemade is much better than store-bought, we can check out the DIY pomegranate lip balm…but first, let me brief you on the benefits of pomegranate seed oil for your lips:
Benefits of Pomegranate Seed Oil for Your Lips
Pomegranate seed oil is amazing for beauty! Read what it does for radiant beauty here:  5 Beauty Benefits of Pomegranate Seed Oil. It's pretty incredible for your lips too! Here's a list of things pomegranate seed oil will do for gorgeous lips:
Softens lips
Rejuvenates the skin on the lips
Promotes cell renewal
Prevents premature aging
Locks in moisture
And more!
DIY Pomegranate Lip Balm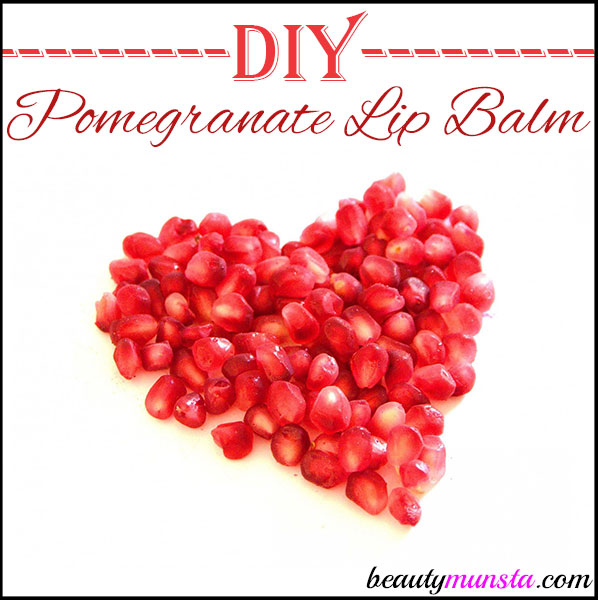 What you Need
Directions
Melt your beeswax pastilles, shea butter and pomegranate oil in a double boiler.
Once melted, remove from heat and stir in the mica – iridescent red powder and pomegranate flavor.
Now using a dropper, transfer the mixture into your lip balm container or lip balm tubes.
Let the lip balm container or tubes set in the refrigerator for 30 minutes.
Enjoy your very own DIY pomegranate lip balm!
Have a go at creating this DIY pomegranate lip balm and tell me how it goes!