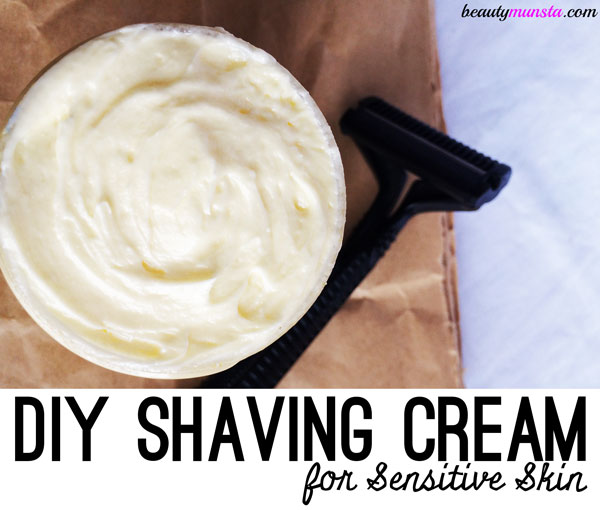 Shaving Sensitive Skin
If you have sensitive skin, conventional shaving creams may irritate your skin causing itchiness, redness and allergic reactions. The safest and best way to avoid such problems is by using an all-natural homemade shaving cream for sensitive skin.
One of the reasons why sensitive skin reacts negatively to conventional shaving creams is because of the abhorrent synthetic chemicals contained in them. Even if you do not have sensitive skin, you should still consider giving up conventional shaving creams (or any other conventional products, for that matter) since they can still have unseen health effects in your body.
The top 3 toxic chemicals found in shaving cream include:
✾ Artificial fragrances: Artificial fragrances (also known as parfum) are synthetic concoctions of compounds designed to mimic natural scents. Some people are lucky enough to be allergic to parfum, so they stop using them altogether, but others who keep using products containing artificial fragrances are exposed to carcinogenic substances and symptoms such as thyroid dysfunction, obesity and insulin resistance as a result hormone disruption.
✾ Pthalates: Pthalates are often used in cosmetic products as a plasticizer to maintain the softness and consistency of the product and prevent cracking but they come with a whole slew of adverse effects including hormone disruption, metabolic disruption and decrease in immune function.
✾ Triethanolamine Triethanolamine is used as a cheap emulsifier and surfactant in shaving creams but is actually a known skin and respiratory irritant and is linked to various cancers such as prostrate, bladder and liver cancers.
Is your shaving cream worth it? I don't think so! It's easier to toss your store-bought shaving cream in the trash and make a simple one at home using natural, toxin-free ingredients!
Shaving cream using all natural ingredients
The special ingredients in this homemade shaving cream for sensitive skin are aloe vera gel and lavender essential oil, which are both particularly soothing for sensitive skin.
Aloe vera gel is a natural plant gel and powerful humectant, gentle enough for sensitive skin. It adds moisture into the skin and softens dead skin cells, making them easier to slough off when shaving.
Lavender essential oil is an affordable yet perfect essential oil to anti-inflammatory properties to soothe and relax skin cells after shaving. It can help prevent razor bumps and quells redness, swelling and itching after shaving.
The other ingredients such as coconut oil, shea butter and olive oil are all natural plant-based oils that when combined together act as an easy-to-apply cream that glides on smoothly and allows for a close shave. They also naturally lock in moisture into your skin, leaving it smooth and silky after shaving.
Ingredients
Directions
Get your high speed blender and dump in the coconut oil, shea butter (or cocoa butter), olive oil and aloe vera gel.
Blend away for about 2 minutes or as long as it takes to get a creamy, frothy, white and well-combined mixture.
Depending on the watts of your blender, this could take even less time. Mine's 400 watts and it only takes me about 20 seconds to reach a frothy consistency.
Now pour your blended cream into a clean container and drop in the lavender essential oil. Mix it in thoroughly using a glass rod or the back of a spatula. You don't want to contaminate your food utensils with essential oils because essential oils are highly potent and should not be ingested.
Voila! Your all-natural shaving cream is ready for use! Store it in an mason jar. Lightly coat your hairy bits in this cream and shave away!
Tips
Fear clogging the drain? Not to worry, after shaving, you can just pour down about a liter of hot water down the drain and it will all melt. Or you can let the hot water tap run for a couple of minutes and no clogged drains!
Always suffering from razor burn? You could be reacting to the razor itself. Most blades may be made of a combination of metals, usually containing aluminum. Those with sensitive skin may react to metals (especially metals like nickel) so invest in getting a stainless steel razor and always sanitize your shaver using rubbing alcohol and hot water before use.
Fan of soap? Don't use soap directly after shaving because your skin is raw and extra sensitive at that time and using harsh soap can easily irritate your skin.