Looking for a natural lip moisturizing lip balm recipe that hydrates, moisturizes and seals? Look no further than this absolutely easy recipe that can be made in minutes!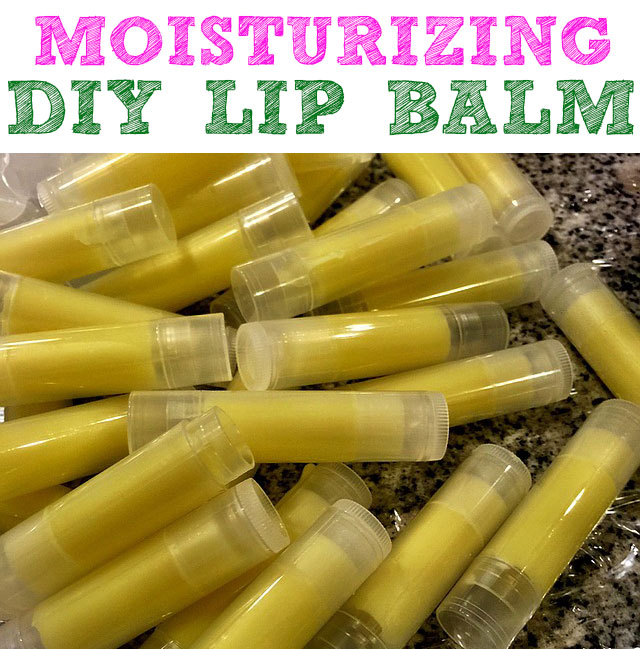 The Skin on Our Lips Needs Special Care
Have you ever noticed that the skin on our lips is quite different from the skin on the rest of the body. Although in all areas of the body, the skin is composed of three layers: epidermis, dermis and hypodermis. The epidermis has a protective covering called the stratum corneum, which is much thinner on the skin of the lips compared to the skin on the rest of the body.
Another important difference of the skin of the lips, compared to the skin on the rest of the body is that the skin on the lips completely lacks any oil glands. Called the sebaceous glands, these oil glands are located at the base of each hair follicles and produce natural oils to moisturize and protect the skin. Since our lips lack these glands, it's up to us to take care of them by regularly moisturizing them.
Natural Ingredients Needed for An Ultra Moisturizing Lip Balm
We need not more than 3 ingredients to make an absolutely luxurious lip balm that has natural ingredients that deeply moisturize the lips and give them the care they deserve!
The beauty of making your own lip balm at home is that you get to choose the ingredients according to what you have available or what suits your fancy.
That's why I've listed the 3 categories of ingredients that you need, and their benefits, and the rest is your pick! Let's have a look below.
♥ Natural Carrier Oils – These include coconut oil, shea oil, avocado oil, castor oil, jojoba oil, rose hip oil and more. Carrier oils will help make your lip balm softer and smoother to apply so it will just glide over your puckers. They also add hydrating and moisturizing qualities, which help heal dry and chapped lips. Use high quality, organic and cold pressed oils, if possible, to give your lips only the best.
♥ Natural Butters – Natural butters include shea butter, mango butter, murumuru butter, cocoa butter and more! Unlike oils, butters are more dense, creamier and heavier and can provide ultra moisturizing, long lasting care for your lips. Butters also have natural waxy compounds which act as a sealant over the lips, preventing water loss from the skin and keeping the lips soft, supple and moisturized for longer.
♥ Natural Flavoring – Conventional lip balms contain synthetic fragrances, which are more profitable for the cosmetic companies but harmful for us. Ingredients such as preservatives and stabilizers, found in conventional lip balms are known carcinogens and hormone disruptors! We can use natural flavoring like essential oils (such as peppermint oil, vanilla oil, lavender oil, cinnamon oil, clove oil, grapefruit essential oil and more!)
Easy Instructions for Natural Lip Moisturizing Lip Balm Recipe
Making an all natural lip moisturizing lip balm couldn't get easier than this! Do remember that you can add extra ingredients if you wish. Get totally creative and come up with fun flavorings and textures for your lip balm. Feel free to double, triple or multiply the recipe by however many times you want, in order to make larger quantities.
Here's the quick and easy recipe!
Ingredients
Directions

Melt the butter and carrier oil over low heat, taking care not to burn the ingredients.
Once fully melted, take off heat and allow to cool down a bit.
Now add the essential oil and stir thoroughly to get everything evenly mixed.
Carefully pour into a container like an empty chapstick tube and place in the refrigerator to set for 2 – 6 hours.
Your natural ultra-moisturizing lip balm is now ready to be used! It's completely safe, edible, non-toxic and safe for kids!

Make a large quantity of this lip balm and fill into lip balm tubes/or chapstick containers, print some cute labels and stick them on. This will make nice party favors or gifts for your loved ones!