We're going to learn how to make a DIY Manuka Honey Face Cream to heal all skin woes!
As a beauty DIYer, I can tell you that adding manuka honey to your homemade skin care formulations is one of the best things you can do. Manuka honey is truly nourishing for your skin. It's jam-packed with powerful antioxidants, vitamins, minerals and other bio-active compounds that deliver all sorts of much-needed nutrients into skin cells.
Manuka honey is very unique in its composition. It is more nutrient-dense than regular raw honey. It is specially harvested from bees that only feed on manuka bushes. It has a much higher concentration of a natural antibacterial compound called methylglyoxal (MGO) compared to regular honey. It also contains 4 times as much nutrients than in regular honey. So when you use manuka honey on your skin, you'll be showing it extra TLC!
In this post, we're going to be looking at how to make a DIY manuka honey face cream. I've used honey so many times in my homemade facial/body creams. It has a great rejuvenating effect and it keeps skin glowing and beautiful. The DIY manuka honey face cream below is perfect to use on skin of any type. If you have acne, rosacea, eczema, acne scars, blemishes or normal skin, just use this face cream to improve your skin by miles!
DIY Manuka Honey Face Cream
I've already posted this recipe on the blog here: Homemade Remedy using Shea Butter for Acne . It's truly awesome because people keep have been seeing that it's doing them wonders! Feel free to use aloe vera juice, instead of the gel.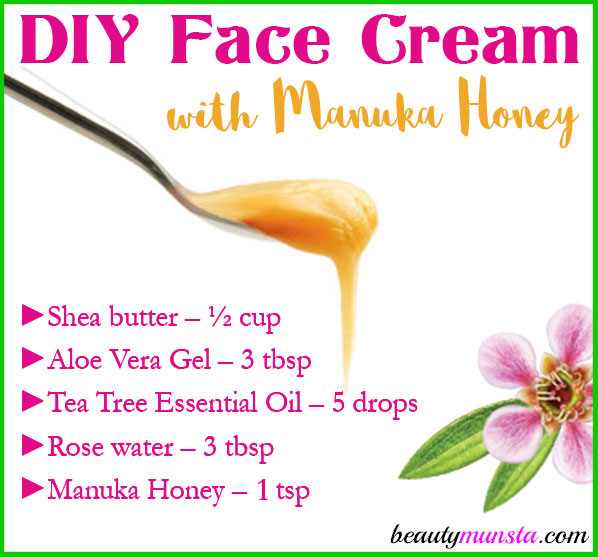 What you Need
Directions
Melt your shea butter using a double boiler.
Once melted, remove from heat and mix in the aloe vera gel, rose water and raw honey.
Now place the melted mixture in the refrigerator for 15-20 minutes. By the time the minutes are up, your mixture should be partially solidified.
Get it out of the refrigerator and whip using a hand mixer for 5 minutes or until you obtain a fluffy white cream.
Scoop the cream into a sterilized storage container. Store in a cool dry place where it'll last months, provided you don't get water/dirt into it.
To use, apply a pea-sized amount all over your clean face, right before bed.
The best time to use this DIY manuka honey face cream is at night time, because this is when the skin repairs and rejuvenates itself. Plus, it's a bit sticky because of the manuka honey, which is how it's supposed to be so using it at night time on your face is the best.
Let the nutritious mixture penetrate into your skin overnight. In the morning, wash your face as usual and say hello to glowing skin!