Manuka honey is literally your skin savior. It's a miracle cure for acne, rosacea and hyperpigmentation. Don't believe me? Try a DIY manuka honey face mask now!
What is Manuka Honey?
Manuka honey is an amazing type of honey that comes from Manuka bush flowers found in New Zealand and some parts of Australia. It's incredibly healing, more than regular honey because it contains 4 times the mineral content of regular flower honey.
And remember, regular raw honey contains a plethora of nutrients including zinc, iron, magnesium, copper, potassium, zinc, selenium and others. What's more is it also contains medicinal compounds that are so unique to it alone, some of which haven't even yet been profiled by scientists up to today! So multiply that by 4 and that's manuka honey!
Manuka honey is definitely a unique type of honey and superfood that's more nutritious and healing than regular honey. If you want beautiful skin, you'd definitely get your hands on a jar of pure manuka honey for both internal consumption and external use!
Benefits of Manuka Honey for Skin
Here are some of the benefits of manuka honey for skin:
Has antibacterial properties that fights acne-causing germs and skin irritating germs
Lightens skin tone
Fades acne scars
Reduces skin inflammation
Cleanses skin
Purifies pores
Seals moisture into skin
Softens rough skin
Reduces redness
Delays wrinkles and fine lines
DIY Manuka Honey Face Mask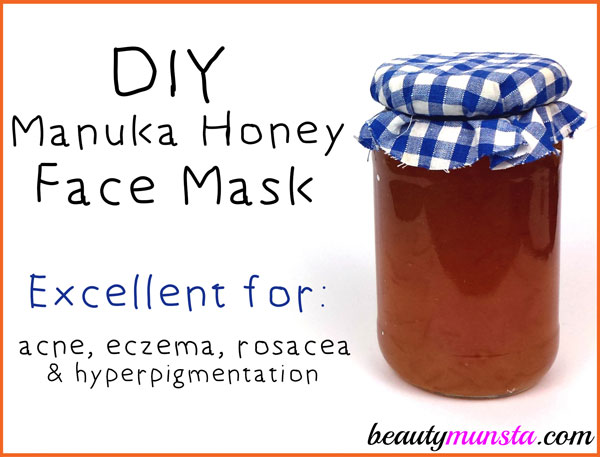 What you Need
Optional ingredients to add:
½ tsp lemon juice squeezed from a fresh lemon – for pigmentation, acne scars, skin lightening
½ tsp nutmeg powder (where to get it) – for eczema, exfoliation, rejuvenating effect
1 drop of tea tree essential oil (where to get it) – for acne, rosacea, cleansing properties, purifying pores, tighten skin
½ tsp colloidal oatmeal (where to get it) – for rosacea, eczema, soothing skin
Directions
Drizzle the manuka honey into a small bowl.
Now stand over of your bathroom sink and scoop up the honey using your clean fingers.
Apply it gently all over your face, avoiding the area around your eyes and mouth.
Once done with application, let the manuka honey sink deep into your skin for about 5 to 10 minutes. During this time, you can do something else like work on your laptop, watch TV or something to pass the time.
When the time is up, rinse your face thoroughly with warm water first, then in the last rinse, use cold water to close off your pores.
Ta-da! Your face will look much and feel much better! Now pat your face dry, then tone and moisturize it. I like using a pea-sized amount of shea butter to moisturize. It's safe for acne prone skin, soothes rosacea and lightens hyperpigmentation too!
Where to Get Manuka Honey
When purchasing Manuka Honey, you'll find that the jars contain a label 'UMF'. This stands for 'Unique Manuka Factor' which is a grading system that measures the quality of manuka honey by assessing its unique properties and components. The UMF measures the antibacterial power of manuka honey using numbers. Always purchase manuka honey that has a UMF 10+ and says it's a product of New Zealand. This will ensure you get authentic manuka honey. The manuka honey I like uses Kfactor, 'a holistic multi-stage authentication system named for the Key Factors inherent in this distinctive honey'. It's an approved Manuka grading system.
My recommended brand of manuka honey is Wedderspoon's 100% Raw Premium Manuka Honey. It tastes amazing plus is wonderful to use as a face mask! Try it!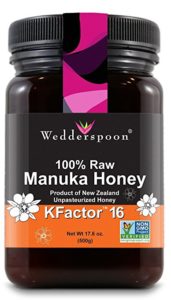 Use this DIY manuka honey face mask every day or at least every weekend to see amazing results! I promise you'll be over the moon with the fantastic results!