Try a homemade broccoli face mask for beautiful skin from the outside!
You've probably never thought of putting broccoli on your face right?! Me too! Until I saw its amazing beauty benefits and a tempting commercial broccoli sheet face mask that I knew I totally didn't need. I mean why would you buy that when you can actually smear real broccoli on your face?!
Broccoli is called a superfood for a reason – it's is SUPER rich in nutrients! It contains Vitamin A, Vitamin B, Vitamin C, Vitamin E and minerals like zinc, potassium, calcium, iron & protein – all of which are immensely important if you want beautiful skin & hair!
Obviously, eating broccoli gives you all these nutrients that promote natural beauty from the inside but you can also benefit from amazing skin by using broccoli on the outside! Let me show you how to make a homemade broccoli face mask!
So there's two ways of making a broccoli face mask – one is by using broccoli powder which I'm sure you're surprised to hear exists – yup it does and it's super nutrient-rich! To make a face mask using broccoli powder, simply place 1 tsp of the powder in a bowl, add 1 tsp of raw honey then mix everything up to form a green paste. Apply it all over your face for 10 minutes then rinse off with tepid water.
The second method is by using the broccoli veggie itself! I'm sure most of you want to try the second method so that's what we're going to see how to make below!
Homemade Broccoli Face Mask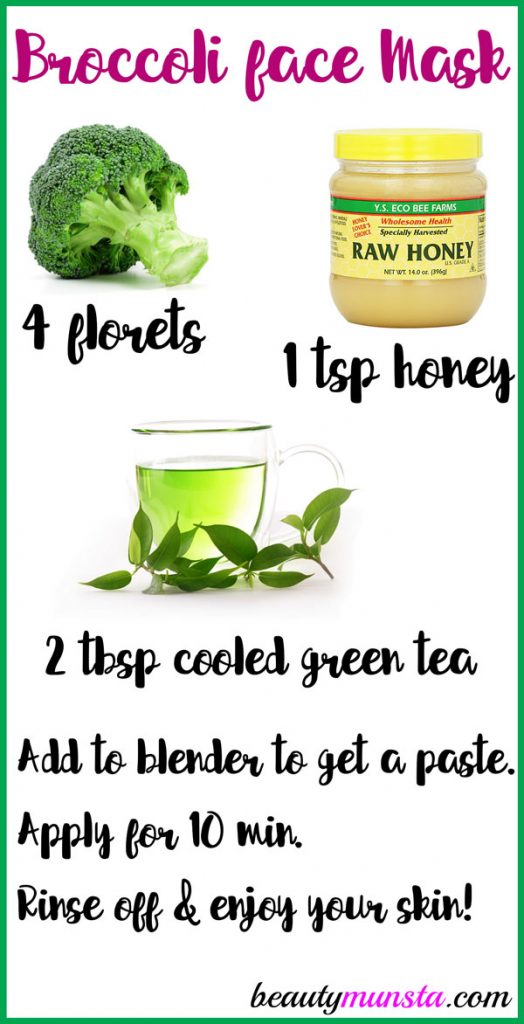 What you need
4 broccoli florets
1 tsp raw honey
2 tbsp cooled green tea
Small blender
Small bowl
Directions
So what you're going to do is first brew the green tea by steeping one green tea bag in a cup of boiling hot water for 15 minutes. Then discard the tea bag and let the tea cool down completely.
While you're waiting for it to cool down, pluck 4 florets from the broccoli head. Wash them thoroughly and put them in a small blender. Blend it for a few seconds to chop them up.
Next add 2 tbsp of cooled green tea and tsp of raw honey. Blend all ingredients for a few seconds until you end up with a well combined mixture. Transfer it to a small bowl.
Your broccoli face mask is ready for application!
Using clean fingers, apply it all over your face, avoiding the eyes.
Leave it on for 15 minutes then rinse off with warm water first then cold water.
Voila! Your rejuvenating broccoli facial treatment is complete! Marvel at your beautiful supple skin then go ahead and tone your skin (using some of the cooled green tea of before – simply add it to a spray bottle or use a cotton ball to apply). After toning, moisturize as usual! To be natural, use a pea-sized amount of shea butter!

Okay beauties! I can't wait for you to try this easy homemade broccoli face mask and come share how it went!