Did you know the beauty benefits of broccoli?! You have got to find them out in the article below!
Broccoli looks just like cute little trees, doesn't it? And they're filled with nutrients that have loads of health benefits!
We used to hate eating broccoli when we were young…some of us still do! But when you read about its BRILLIANT beauty benefits for skin, hair & more, you'll be buying it on a regular basis! Check out 11 beauty benefits of broccoli below!
11 Beauty Benefits of Broccoli for Skin, Hair & More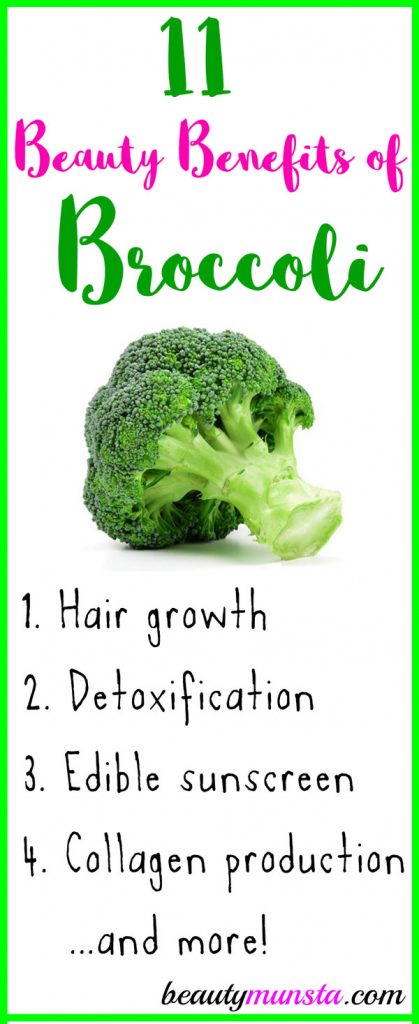 Below are 11 beauty benefits of broccoli for your skin, hair & more!
1. Promotes Hair Growth
Dark green vegetables are highly touted because they promote hair growth. Broccoli is one of them! Rich in important nutrients like Vitamin A, B-vitamins, Vitamin C, Vitamin E, calcium, iron, protein, zinc and others, eating broccoli fosters formation of new hairs while strengthening existing ones! Consume steamed or stir fry broccoli regularly to promote thicker longer hair!
2. Nourishes Skin
To get healthy skin, you need to nourish it from the inside! Eat fresh fruits and veggies high in nutrients including broccoli. It contains a boatload of vitamins and minerals that play their part in feeding skin, leaving it looking healthy and glowing.
3. Treats Acne
One of the ways to prevents & treat acne is by using zinc! Whether it's consuming it through foods rich in zinc, eating supplements or applying it on your face, zinc fights acne! And what do you know? Broccoli is a very good source of zinc! So eating it makes your body naturally fight off acne, giving you clearer skin!
4. Boosts Collagen Production
Do you want youthful skin with little to no wrinkles & sagging?! Then you gotta munch on broccoli! I love eating mine steamed or in a stir fry with other vegetables like tomatoes, onions, etc! Broccoli is a great anti-aging food because it is super high in Vitamin C! The amount of Vitamin C in one cup of chopped broccoli is 135% of the Daily Recommended Value! Vitamin C is a nutrient known to boost collagen production, hence promoting taut, firm, supple & young looking skin!
5. Edible Sunscreen
You know the saying, 'Eat your sunscreen'? It means that there are certain foods that when eaten, naturally provide your skin with a shield against harmful sun rays! Broccoli is one of those foods! Eating it regularly is like a natural sunscreen for your skin – your skin will be protected from the harsh UVB rays that damage it!
5. Detoxification
We all know that fresh vegetables are chockfull of goodies including fiber that aids in elimination of toxins through the colon. But very few vegetable actively aid in detoxification of the body like broccoli! This amazing vegetable contains three special nutrients: glucoraphanin, gluconasturtiin and glucobrassicin. These help detoxify the body including skin, which promotes healthy, blemish-free and glowing skin!
6. Aids in Weight Loss
Just like flax seeds hydrate skin, they also keep your hair moisturized. Incorporate them into your diet and make the above flax seed hair gel to give your dry hair much-needed moisture!
7. Makes Hair Shiny
The Vitamin C and E content in broccoli give hair a lustrous shine naturally! If you want your hair to be enviable like the models in hair care ads, then you've got to add broccoli to your regular diet! You can also apply a paste of broccoli powder on your hair to make it soft, silky & shiny! That's because broccoli has erucic acid, which acts similarly to silicones by coating the hair and allowing for easy detangling! This component also adds softness and shine to your hair!
Hair Conditioning Mask for Shiny Locks: Into a bowl, add 2 tbsp of broccoli powder and enough rose water to create an easily spreadable paste. Apply this all over your scalp and smear it on your hair length. Leave it on for an hour then rinse off well thoroughly, making sure all of the hair mask is off completely. There's no need to shampoo and condition! When your hair dries, detangle like a breeze then style as usual!
8. Heals Blemishes
Blemishes including acne scars, red pimples and other marks on the skin that mar a flawless appearance can be healed when you incorporate foods rich in Vitamin C and E like broccoli! Watch your pesky blemishes fade away forever by improving your diet!
9. Glowing Skin Face Mask
Did you know that you can achieve glowing skin by using broccoli on your face?! Yes! It helps because the nutrients in broccoli such as Vitamin E, zinc and calcium can work topically to pump skin cells with nourishment & much-needed moisture to keep skin glowing and healthy! Here's a broccoli face mask to make at home right now: Homemade Broccoli Face Mask
10. Supple Skin
All of us crave for supple skin but it can't get any easier than eating broccoli! It's rich in Vitamin C that is known for its anti-aging benefits of keeping skin looking timeless and supple! Don't forget the Vitamin E content of broccolis which protects cell membranes, preventing free radical damage!
11. Stronger Nails
Strong nails look good because they don't easily chip and crack! If you're someone who's trying to grow longer nails but they end up breaking or chipping halfway, then you've got to eat nutrient-rich foods (containing protein, especially) like broccoli! It contains cysteine, an amino acid that helps the body utilize the protein you eat. This promotes strong long & healthy nails that do not break, chip or crack!

Ensure to eat broccoli every week without fail if you want to witness its brilliant beauty benefits for your skin & hair!