These incredible beauty benefits of kale promote a clear complexion, longer hair and stronger nails! Read on to find out more!
Kale is a popular, and dare I say it, trendy leafy green added to the famous Green juices & smoothies that promote weight loss, increased energy and more!
It is very nutrient rich – containing high amounts of antioxidants, iron and Vitamin K as well as protein, calcium, potassium, phosphorous, Vitamin A, B, C and others. Because it is so nourishing, it promotes good health and vitality.
In this article, we shall be looking at the beauty benefits of kale:
10 Beauty Benefits of Kale for Skin, Hair & More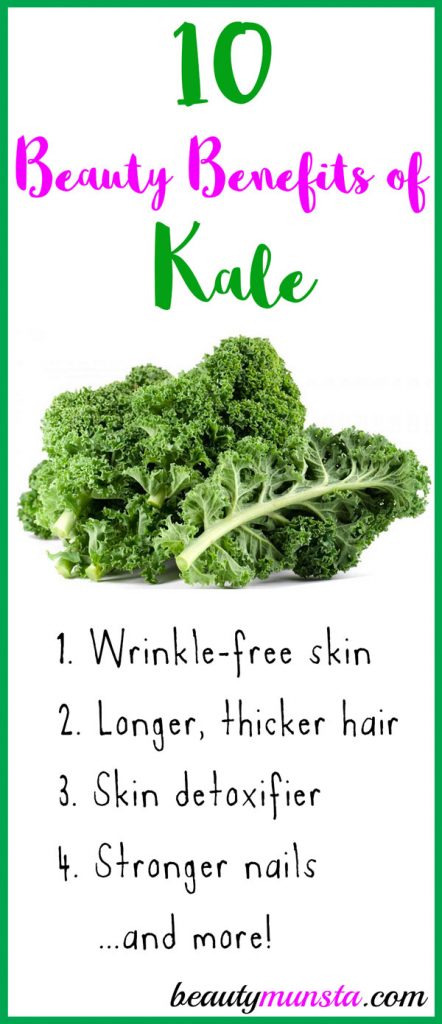 1. Promotes Youthful Skin
Kale is bursting with antioxidants that make it one of the best anti-aging foods! Antioxidants fight off free radicals that cause premature aging by stealing oxygen from healthy skin cells. It improves skin elasticity and rejuvenates skin cells. Add kale to your green smoothies, juices, salads and make vegetable wraps with them!
2. Promotes Hair Growth
When I was younger, my mom always made me eat leafy greens because she said they helped make my hair grow. It wasn't just a way of making me eat my greens, it's also 100% true that it promotes hair growth. Leafy greens including spinach, collard greens and kale are rich in iron, protein, sulfur and other minerals that foster a healthy head of hair. So don't skimp out on green food because you'll be missing out on their hair growth boosting properties!
3. Fights Acne
Get a clearer complexion by adding kale to your diet. It helps flush out toxins form the body which usually show up on the skin as pus-filled cystic acne. Kale also reduces the appearance of red inflamed acne because of its anti-inflammatory properties.
4. Heals Blemishes
The Vitamin A content in kale helps increase cell turnover which heals blemishes, scars and dark spots at a faster rate. Make this DIY kale face mask to help improve your skin from the outside!
DIY Kale Face Mask: Place a handful of kale into a small blender with the juice of half a lemon and a little water. Blend till you get a green puree. Now place this in a bowl and apply it on your face (avoiding the eyes) and neck. Leave it on for 15 minutes then rinse off in the shower.
5. Repairs Sun Damaged Skin
You know the phrase, 'Eat you sunscreen'? It means that you can eat certain foods to help act as a sunscreen from the inside-out! Kale is one such food! And it not only prevents sunburn but also helps heal sunburn and repair sun damaged skin! It contains nutrients like copper that improves the synthesis of melanin, which protects your skin from the sun.
5. Stronger Longer Nails
Kale is one of the foods good for healthy nails. It's rich in minerals especially iron, that promotes stronger longer nails.
6. Detoxifier
You've heard of kale being praised as a detox food, haven't you? It's true! Eating kale helps push out wastes, toxins and other impurities from the body. This helps promote healthy weight loss giving you a fit and beautiful body. It also prevents acne from popping out of your skin as toxins!
7. Gives Skin a Beautiful Glow
Many people notice a natural glow to their skin and a brighter complexion after adding kale to their diets! Try this Glowing Skin Green Smoothie Recipe:
Glowing Skin Green Smoothie: Into a high speed blender, add 4 stalks of kale, 2 frozen bananas, half a ripe avocado (peeled, de-seeded & chopped) and 1 cup coconut milk. Drizzle in some raw honey as desired to sweeten. Enjoy regularly for that beautiful glow every girl needs!
8. Reduces Dark Circles
Kale is SUPER rich in Vitamin K. This vitamin is less-known for beauty but it actually does a lot for your skin! One of the benefits of Vitamin K is that it reduces dark circles. If your body's Vitamin K supply is depleted, your skin becomes more prone to darker pigmentation including dark circles and dull-looking skin!
9. Reduces Skin Inflammation
It's no surprise that kale is a powerful anti-inflammatory food. This makes it actively fight inflammation, whether it's related to eczema, psoriasis, rosacea or acne.
10. Improves Skin's Hydration
Believe it or not, kale contains over 80% water! Eating kale regularly is good for people with dry and flaky skin types! It improves the skin's hydration levels, pumping them up with much-needed moisture.

Ready to enjoy the beauty benefits of kale? Consume it regularly and also use it topically to improve your skin and hair!