Make your own DIY makeup primer that's less clogging and works just the same as a store-bought primer. Bonus: It's way cheaper!
A primer is the secret to long-lasting, vivid makeup that stays put on your skin without fading away.
Have you noticed that primers always come in tiny bottles – yet they are always super pricy? Is it even worth it, considering you can make your own at home?!
Personally, I've only ever purchased one primer in my life. It was great for my eye makeup. I never used it on the rest of my face because I didn't want to 'waste' it.
But oh, what a difference primer makes when it's applied all over your face. It makes your makeup pop and last hours without deteriorating!
Ever since my first primer ran out, I've only been using my own DIY makeup primer that works just as well, and makes me feel way happier because I know I'm using less toxins on my skin!
Commercial Primers May Clog Your Skin Worse Than Homemade Primers
Commercial primers have a huge list of ingredients in them, including parfum and other chemicals that can block your pores even worse and create acne, pimples and black heads.
Make Your Own DIY Makeup Primer
There's no escaping it – all primers are clogging! But when you make your own homemade skin primer, you can use far less chemicals, and completely all-natural ingredients. Homemade makeup primers are so much better because they work just as well, are safer and are much cheaper!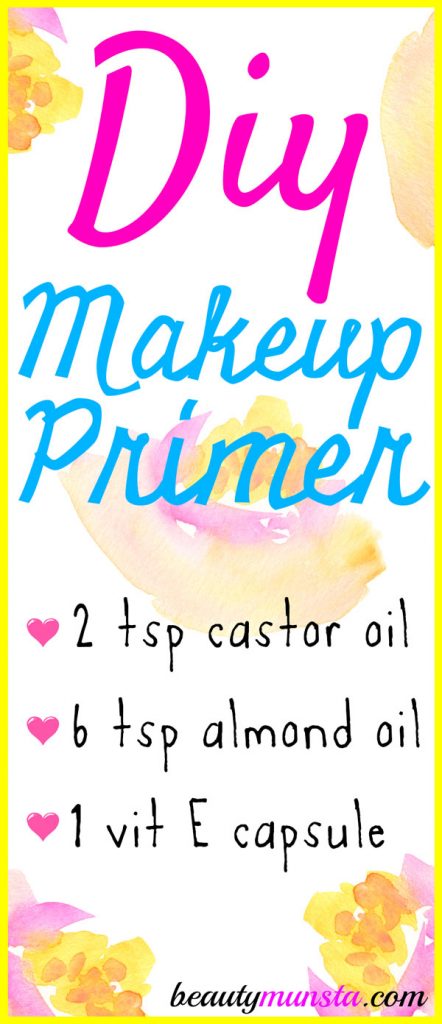 Ingredients:
2 tsp of castor oil
6 tsp of jojoba oil
1 vitamin E capsule
Small funnel
Empty container or 1 oz amber glass dropper bottle
Directions:
Get a small empty container that you already have, or purchase a glass dropper bottle, to store your primer.
In the container, carefully pour in the castor oil and jojoba oil using a small funnel.
Prick your vitamin E capsule and squeeze the oil into the container.
Now firmly close the cap and shake the bottle/container to get everything well mixed.
Your DIY face primer is now ready.
How to Use Your Homemade Face Primer:
This primer is thick but very easy to apply. For me I like to pour a small pea-sized amount into my palm, dip my index finger and middle finger into it and pat it quickly all over my face, including eye lids.
Then I rub both my palms together and rub them all over my face, evenly distributing the primer.
Next, continue with your makeup routine by applying foundation and other products as usual.
Tips:
Acne-Fighting Primer! If you have acne-prone skin and must use a primer, add a few drops of tea tree oil and roman chamomile oil to your DIY primer. This will fight acne-causing bacteria and reduce the chances of acne formation.
Deep Cleanse Afterwards! Once you get back home, the first thing you should do is take off all the makeup meticulously and deep cleanse/exfoliate your face. This will remove all remnants of primer that may be within your pores.
Detox Your Face! Once or twice a week, make sure you detox your skin using a toxin-absorbing mask like our activated charcoal face mask! This helps keep your pores squeaky clean and fresh.