Make a gentle but effective clay and honey face wash for sensitive skin!
Sensitive skin is very delicate and doesn't respond well to most store-bought face washes. Think red irritated and stinging skin! That's why it's best to avoid the chemical laden, fragrance containing commercial face washes and use something gentler with absolutely no harsh chemicals and artificial fragrances!
Enter this clay and honey face wash!
It is a homemade cleanser you can whip up in seconds for your sensitive skin. It only uses two ingredients so it's very safe and you don't need to worry about it causing any problems like breakouts!
In fact, you will notice a decrease in breakouts when using this face wash because clay and honey both effectively cleanse out pores, fight bacteria and keep your skin feeling clean!
Clay and Honey Face Wash for Sensitive Skin
Once you whip up this clay and honey face wash, make sure to store it in a cool dry place. Also, do not get any water into it! This is important! This face wash keeps for long only if you don't introduce water, dirt and other contaminants into it! So when scooping some out, use a clean dry spoon! It's no hassle really since you're just going to be using it twice a day!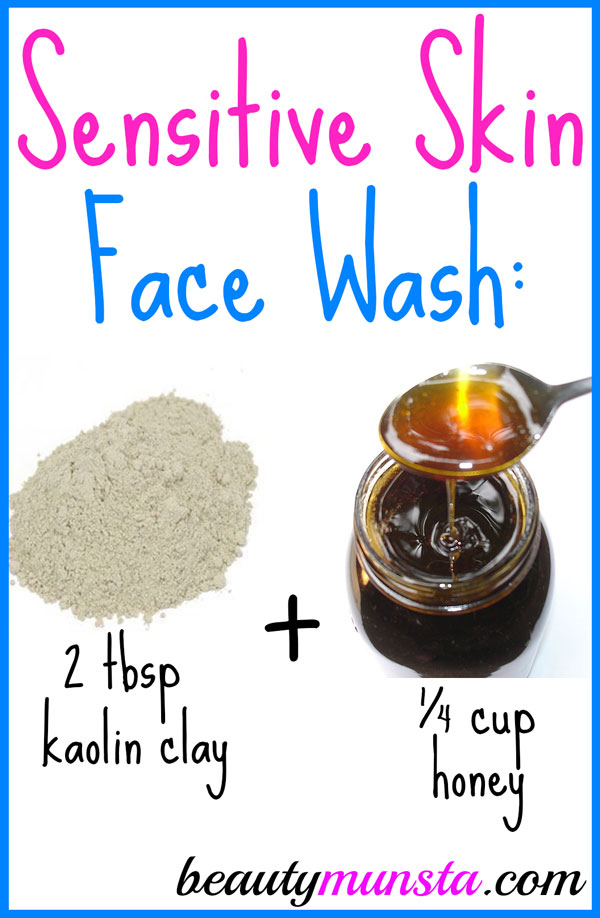 Ingredients:
¼ cup liquid honey
2 tbsp kaolin clay, rhassoul clay or bentonite clay
Jar for storage
Clean dry spoon
Directions:
It's all about mixing ¼ cup of liquid honey with 2 tbsp of kaolin clay together in a jar.
Store the jar in your bathroom cabinet with a small spoon inside.
To use, scoop out a tsp of the face wash and put it on your clean dry palm.
Massage the face wash onto your damp face for a minute, avoiding the eyes.
Now rinse off with cold water and pat your face dry!
Tone with a Green Tea Face Toner and moisturize with a pea-sized amount of shea butter!

Go ahead and make this clay and honey face wash for sensitive skin! Share your results!