Try this chamomile and green tea toner as a natural homemade skin toning & firming remedy!
Benefits of Chamomile for Skin
Chamomile flowers are ancient remedies for calming irritated skin. They are soothing in nature and have strong anti-inflammatory properties that help reduce inflammation and redness. More benefits of chamomile for skin can be read here: 12 Beauty Benefits of Chamomile Flowers
Benefits of Green Tea for Skin
Green tea is popular for its slimming and weight loss properties. It is also great for anti-aging! When used topically, it has natural astringent properties as well! Green tea also tightens skin, shrinks large pores, reduces excess oily skin and prevents UV damage! You can read 15 Beauty Benefits of Green Tea to get to know more about the wonderful properties of green tea for skin!
Chamomile & Green Tea Toner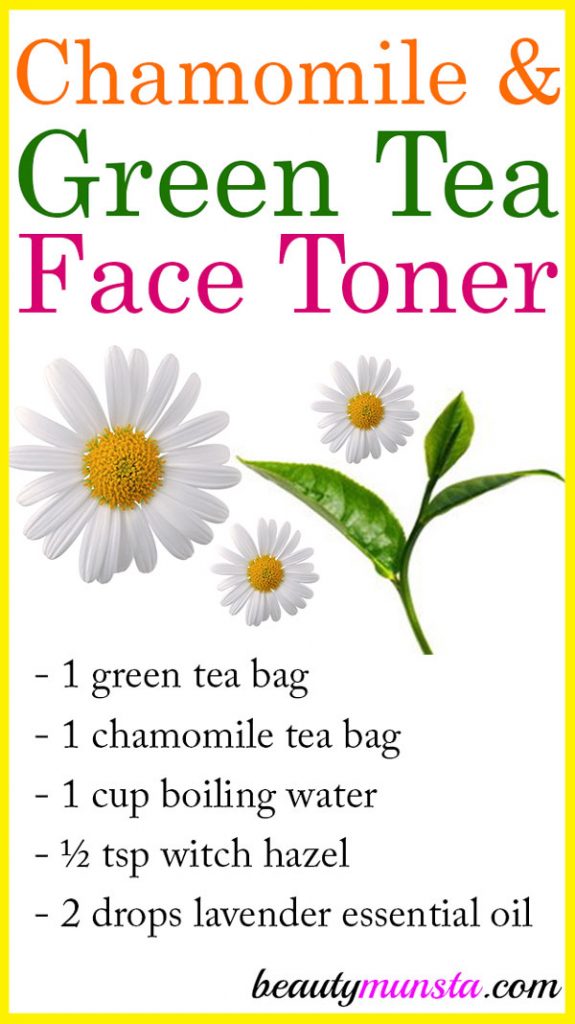 What you need:
1 green tea bag
1 chamomile tea bag
1 cup boiling water
½ tsp witch hazel
2 drops lavender essential oil
Small funnel
Spray bottle
Directions:
Place one chamomile tea bag and one green tea bag in a pot containing one cup of boiling water.
Steep for 15 minutes.
Let it cool completely.
Add ½ tsp witch hazel and 2 drops of lavender essential oil into a spray bottle and swirl gently to mix the essential oil into the witch hazel.
Pour your chamomile green tea toner into the spray bottle using a funnel.
Shake well to combine and your chamomile and green tea toner is ready!
Store in the refrigerator for up to 2 weeks.
To use, spray it all over your face at a distance of 6-12 inches with your eyes closed.
When the toner dries up, apply a pea-sized amount of your usual moisturizer or shea butter, if you want to go natural.
Enjoy this chamomile and green tea toner for pretty skin!