If you're into skin care, then you know there's something called a toner and something called an astringent. Most people think it's the same thing. But there is a difference, though it may be subtle! In this article, we'll find out the difference between toner and astringent and which suits you best in your skin care regimen!
Let's first get to know the basics of what a toner and astringent are, shall we?!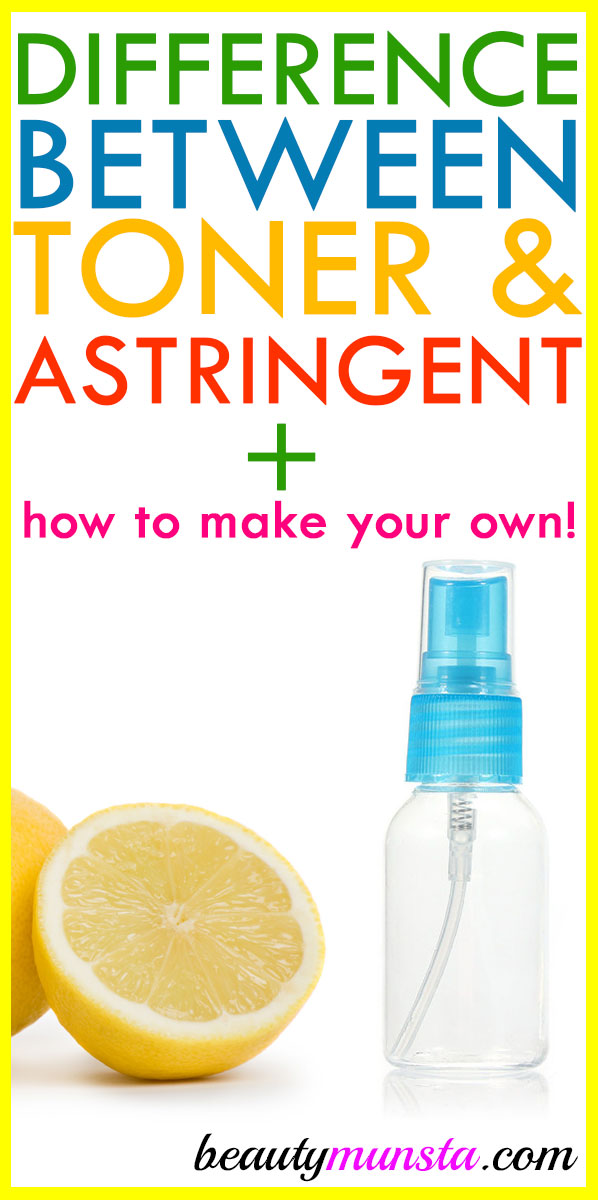 What is a Toner?
A toner is a simply a substance that tones and firms skin while removing excess oils. It is also hydrating because it is mostly water based. Toners can also be healing to the skin since they contain herbal extracts like green tea, chamomile, rose, etc. Some examples of natural toners include rose water, green tea, cucumber juice, chamomile tea and others.
What is an Astringent?
An astringent, on the other hand, is used to cleanse and purify pores. It may be alcohol or chemical based. An astringent is made of stronger stuff than a toner. It's mainly used for specific skin types such as oily skin and acne prone skin. If used on dry or sensitive skin, it may have a drying effect and leave skin red. Some examples of astringents include witch hazel, apple cider vinegar mixture, alcohol, citrus juice, and more.
Main Difference between Toner and Astringent
Ingredients. Toners normally contain natural ingredients like floral hydrosols and herbal extracts. Astringent, meanwhile are mainly alcohol-based.
Strength. As mentioned above, a toner is milder than an astringent. Astringents contain strong ingredients that can be harsh on the skin.
Skin Type. Toners can be used for all skin types. They are gentle, less drying and have low potential for skin irritation compared to astringents. Astringents are best suited for oily or acne prone skin types. And even then, only use an astringent when you have oily acne prone skin. Using astringents on acne prone skin that's dry, inflamed and sensitive can aggravate it further! Also, do not use an astringent if you have sensitive skin.
When to Use. Both toners and astringents should be used right after cleansing skin.
How they feel on Skin. Toners are mild, hydrating and healing. They also gently tighten skin. Toners are slightly acidic to balance the pH of the skin. Astringents, however, are stronger than toners. They create a tingling feeling on skin and immediately remove oiliness and make skin feel tight and firm.
How to Use. Toners can be sprayed onto the skin or dabbed on with a cotton ball. Astringents are best applied by gentle dabbing onto the skin with a cotton ball. Use astringents sparingly on skin even if it's oily so as not to irritate it. Whether you use a toner or astringent, it's important to use it in moderation. If you're spraying on a toner, don't go above three spritzes. For an astringent, gently sweep the cotton pad/cotton ball across the skin once. Overdoing it can leave skin feeling dry and irritated.
How to Make them at Home
You can easily make your own toner and astringent at home! Buying these is just a waste of money! Plus store-bought toners and astringents contain a slew of chemical and synthetic ingredients which you do not want to put on your face.
Check out some nice recipes on how to make your own toner and astringent at home: