Have you ever thought of making a DIY chamomile face toner? It is absolutely soothing I tell ya!
I love sipping a cup of warm chamomile tea with a drizzle of honey. After using the tea bags, I squeeze out the excess chamomile tea and place them on my face to hydrate, tone, reduce redness and soothe my skin. It's super soothing and feels lovely, you must try it out! Or if you don't want to deal with tea bags on your face, simple make this DIY chamomile face toner!
Benefits of Chamomile for Skin
If you follow this blog, you must have read the post on 12 Beauty Benefits of Chamomile Flowers. These flowers are powerful herbs that have been used since medieval times for their calming and therapeutic properties. Some of their benefits for skin include:
Soothe irritated skin
Reduce inflammation
Balance natural oils on skin
Tighten pores
Hydrate skin
Promote youthful skin
Reduce puffy eyes
Calm itchy and swollen skin
And more!
Let's now check out how to make a DIY chamomile face toner, shall we?
DIY Chamomile Face Toner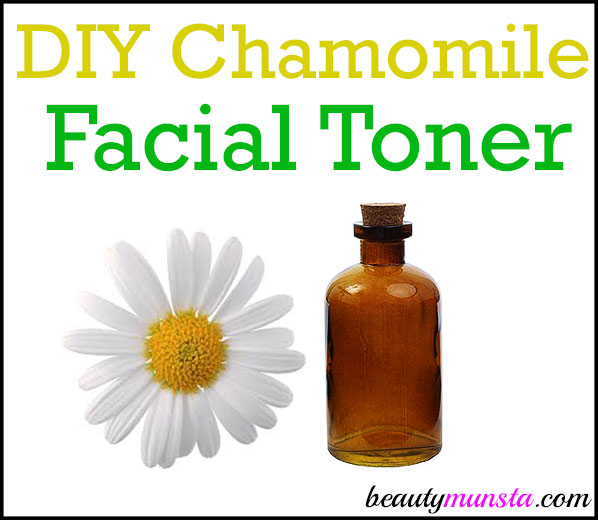 What you Need
Directions
Make 1 cup of chamomile tea by steeping one chamomile tea bag in 1 cup of boiling hot water for 20 minutes.
When the time is up, discard the tea bag and allow the tea to cool down completely.
Once cooled, pour it into a spray bottle.
Now add 1 tsp of witch hazel and 4 drops of lavender essential oil.
Close the bottle and shake well to combine all ingredients.
Your DIY chamomile face toner is ready!
To use, mist all over your clean face with your eyes closed.
Let it dry up then moisturize as usual with your face moisturizer. If you want to go natural, moisturize with a pea-sized amount of shea butter, a natural plant butter with intensely moisturizing and nourishing properties.
Do you use face toner after washing your face? Have you ever made your own DIY face toner? Share below!