Naturally lighten your hair with this DIY chamomile hair lightener spray!
Do you know that you can lighten your hair naturally? Ingredients like chamomile tea, lemon juice and honey have long been used as natural hair lighteners. What you're going to do is make chamomile tea using dried chamomile flowers. You can also use tea bags instead (about 5) to make the tea.
We're going to be using raw honey as well. Don't worry it won't make the spray sticky since we're adding just one tsp. The final ingredient is lemon juice. Use freshly squeezed lemon juice for best results. Instead of lemon juice, you can add 7-10 drops of lemon essential oil. This works as a substitute if you don't have time to squeeze fresh lemon juice. Lemon essential oil also makes the spray last longer.
Okay now let's get onto the DIY chamomile hair lightener spray recipe:
DIY Chamomile Hair Lightener Spray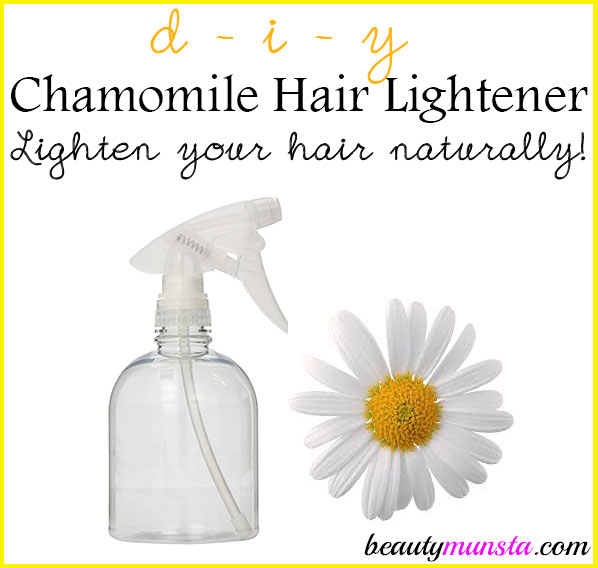 What you need
Directions
Begin by making your chamomile tea: Boil 1 cup of water then remove from heat and steep 2 tbsp of dried chamomile flowers for 20 minutes.
After steeping, let the chamomile tea cool down completely then strain it into a Pyrex cup.
Now add the rest of the ingredients: 3 tbsp freshly squeezed lemon juice, 1 tsp raw honey and 1 tsp vegetable glycerin (for moisturizing qualities).
Your DIY chamomile hair lightener is ready! Now gently pour it into a spritz bottle using a funnel. Store in the refrigerator for up to a month.
Spray onto your locks then stand in the sunlight for 15-30 minutes. Not strong sunlight but soft and gentle sunlight (like in the morning). You can do this before washing your hair.
Be ready to see natural highlights in your hair within a week. If you have blonde hair, you hair will become brighter!
Go ahead and try this DIY chamomile hair lightener recipe out! Let me know how it goes xoxo