Flaunt glossy and luscious locks by making and using this homemade shampoo for shiny hair!
Dull lifeless hair can be a frustrating problem. Who doesn't want to flaunt glossy and luscious hair?! That's why it's time to ditch the store-bought shampoos that are stripping your hair of its precious natural oils and leaving it dry as straw. Because dry hair = easy damage, breakage & no shine!
Are you ready to check out the recipe? Read on!
Homemade Shampoo for Shiny Hair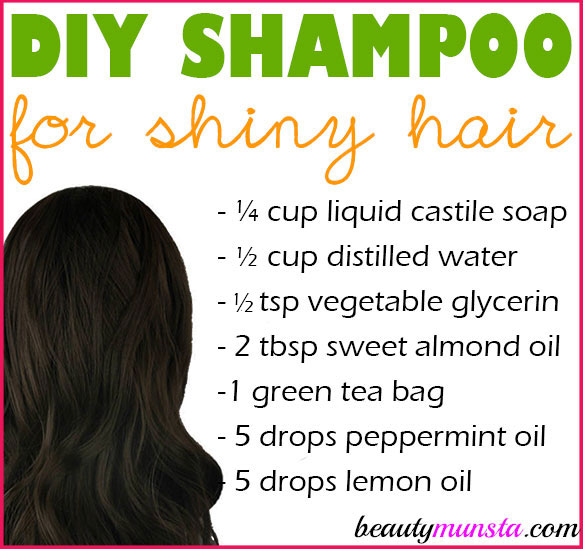 What you Need
Directions
Start out by heating the distilled water. Once hot, pour the water into the Pyrex cup then steep one green tea bag for 15-20 minutes.
When the green tea has cooled completely, discard the tea bag and then pour in the liquid castile soap, vegetable glycerin, and sweet almond oil.
Now whisk the ingredients until well mixed.
Lastly, carefully add the peppermint and lemon essential oils, drop by drop.
Pour the contents of the Pyrex cup into a flip top bottle. Or, you can use an old shampoo bottle.
Your homemade shampoo for shiny hair is ready! Store in your bathroom cabinet for a month or in the refrigerator for longer.
To use, open the flip top bottle and tilt the bottle onto your scalp to pour a little on it. Work the shampoo onto your scalp and hair, then wait for 2 minutes and rinse off with cold water.
To condition your hair, use this DIY Green Tea Hair Rinse or for blondes, use this DIY Chamomile Hair Rinse. You can also use this DIY Aloe Vera Leave-In Conditioner or DIY Shea Butter Conditioner
Note: If you have no time to make your own shampoo + conditioner, try out my favorite natural sulfate-free Maple Holistics shampoo & conditioner. It's effective for dandruff, hair loss and color treated hair too.
Please try out this homemade shampoo for shiny hair and come share your thoughts on it! Shiny hair, here we come!