You know green tea is awesome for anti-aging but did you know it promotes luscious hair too? Learn how to make a DIY green tea hair mask for shiny and silky locks!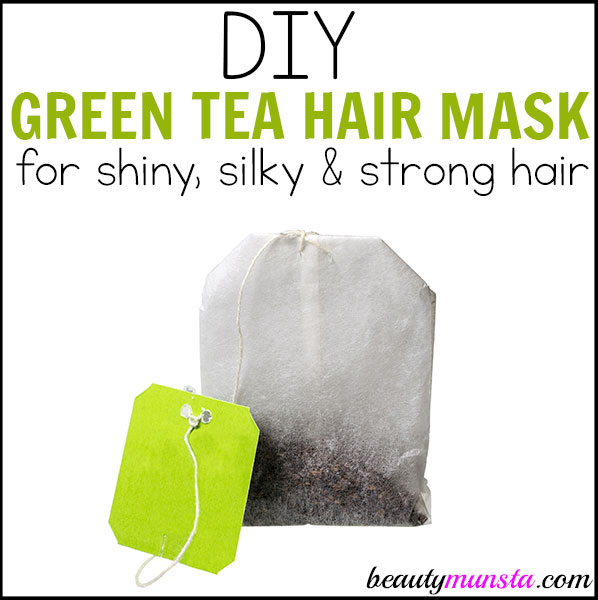 Let's get straight onto the recipe, shall we?
DIY Green Tea Hair Mask
We're also going to be using the following ingredients in this mask:
Egg yolk – Naturally conditions and softens hair, promotes hair growth, volumizes hair, adds as a hair cleanser to remove stale oils, moisturizes hair
Bentonite clay – Removes impurities from hair, balances scalp oils & pH, deeply cleanses hair, makes hair shiny & full of volume
Raw honey – Very powerful antibacterial substance, promotes silky hair, locks moisture into dry hair, repairs damaged hair
Lavender essential oil – Moisturizes hair, promotes hair growth, fights germs, soothes the scalp, makes the mask smell nice
What you need
Directions
Crack an egg and pour only the yolk into your blender.
Now add ¼ cup of freshly brewed and cooled green tea. Make this by steeping 1 green tea bag in ¼ cup of boiling water for 15-20 minutes.
Next add the bentonite clay and raw honey.
Blend for a few seconds to form a creamy mixture.
Pour your mixture into a bowl and stir in the 10 drops of lavender essential oil.
Your DIY green tea hair mask is ready for application!
Take the bowl to the shower with you. Now stand over a sink and part your hair into 2 sections. Using your fingers, start smearing the mask on your scalp until it's coated.
Then move onto your hair strands. Once your whole head is covered with the hair mask, tie your hair up and throw on a shower cap.
Let the goodness penetrate deep into your hair follicles for about 10-15 minutes.
When the time is up, rinse off as many times as possible to get rid of the mask. When rinsing, use only COLD or tepid water. Hot water will cook the egg yolk and make your hair icky!
After rinsing it all off, use a natural sulfate-free shampoo to wash your hair. You can apply ½ to 1 tsp of coconut oil on your hair as a conditioner. It will leave you with soft and silky hair!
That's it! Now dry your hair and admire how amazing it looks!
You can do this DIY green tea hair mask once a week!