Tired of flat greasy locks? It's time to make yourself this homemade hair rinse for oily hair!
Oily hair is flat, greasy and looks icky. Thankfully, you can make your own homemade remedies to bring it back to its original glory! This homemade hair rinse balances out excess oils on the scalp and leave you with shiny and silky locks instead!
It's super simple to concoct this hair rinse. All you need is a few ingredients, some of which you already have in your home right now. You can even substitute any ingredients you don't have for other effective alternatives I've provided. Here's what we need to make this homemade hair rinse for oily hair:
Organic apple cider vinegar – Removes product build-up, leaves hair shiny, silky & soft, balances scalp pH, removes excess and stale oils on the scalp & hair
Rosemary tea – Has astringent properties that reduce excess oiliness, balances oil production on the scalp, fights dandruff, kills germs, makes hair shiny and luscious
Tea tree oil – Is a natural astringent that removes excess oils on scalp & hair, has disinfectant properties that fight off germs, reduces dandruff, kills scalp fungal infections and promotes shiny, soft and silken locks
Homemade Hair Rinse for Oily Hair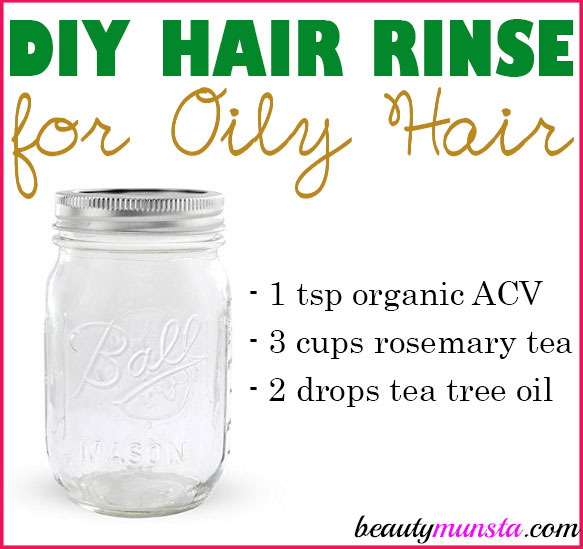 What you need
Directions
Make 3 cups of rosemary tea. Do this by steeping 1 tsp of dried rosemary or 1 fresh medium-sized sprig of rosemary in 3 cups of boiling water for 15 minutes.
Let the rosemary tea cool down completely.
Then add the organic apple cider vinegar and tea tree oil.
Pour your ready-made hair rinse into a Pyrex measuring cup. This is for easy use in the shower since you're going to pour the rinse on your head.
Take the Pyrex cup to the shower with you. After shampooing your hair and rinsing the shampoo off, use this hair rinse as the final rinse. It also acts as a conditioner by the way, so you might want to fore-go conditioner.
Let your hair dry then admire how silky, shiny and most of all, non-oily it looks!
Go ahead and use this homemade hair rinse for oily hair every time you wash your locks. You'll definitely be pleased with the results!