Are there any natural astringents for hair? Yes! Here are the top 5!
Astringents are substances that help remove excess oils from the skin. While astringents are popular for facial skin especially for those with oily skin, they can also be used on the scalp! People who should use astringents on their hair are those who:
Have an oily scalp & hair
Have dandruff
Have an itchy scalp
Who work out daily and can't wash their hair everyday
Sweat a lot on the scalp
So if you beauties have any of the above issues, then these top 5 natural astringents are for you! I'll also show you how you can use these natural remedies for your hair care!
Top 5 Natural Astringents for Hair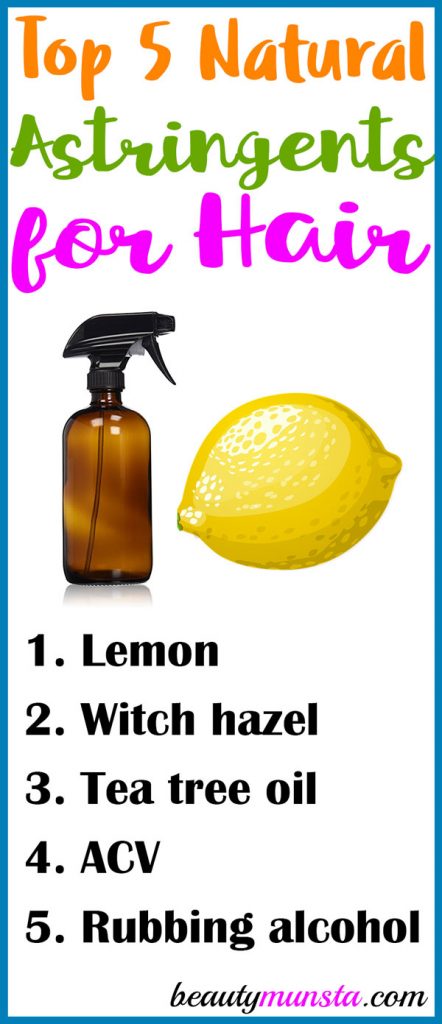 1. Lemon
Lemon is not only an astringent but it also disinfects the scalp, clears dandruff, fights scalp acne and also lightens hair! The best way to use lemon for your hair is by making a spray out of it!
Lemon Hair Spray: In a spray bottle, add ½ cup of distilled water and 1 tbsp of lemon juice. Replace the spray top and shake well to form a cloudy solution. Store in the refrigerator for up to 3 weeks. Spray onto your scalp and hair then let it dry and enjoy clean citrus scented hair!
2. Witch Hazel
Witch hazel (where to get it) is a water-based ingredient that is known for its astringent properties! Just like lemon, it is also a natural disinfectant and helps fight scalp irritants & dandruff. Use witch hazel just like you would make a toner for your face!
3. Tea Tree Essential Oil
Tea tree essential oil (where to get it) is a high concentrated plant extract obtained from the Melaleuca alternifolia plant. It has therapeutic properties including antibacterial, antiseptic, antimicrobial, antifungal properties. It's good for oil-control and cleanses the scalp! One thing though – tea tree essential oil is to be used in tiny amounts and only after mixing it up with another substance especially that with a fatty medium that it can bind to. Essential oils are mainly mixed with carrier oils but for the purpose of being an astringent – which removes excess oil from hair, just make a water-based cleansing moisturizer with it as follows:
Tea Tree Cleansing Moisturizer: In a clean jar, add 2 tbsp pure aloe vera gel, 1 tsp cooled green tea and 5 drops of tree essential oil. Store in the refrigerator for up to a month. Apply all over your scalp for cleansing, soothing and cooling effects.
4. Apple Cider Vinegar
An apple cider vinegar hair rinse is just want you need to detox your scalp! Simply mix 2 tsp apple cider vinegar, 2 cups of water, and 5 drops of lavender essential oil in a Pyrex measuring cup. Use this as your final hair rinse. Or, if you don't want to wash your hair, since a hair rinse is used after shampooing your hair, make a spray out of apple cider vinegar like so:
5. Rubbing Alcohol
Rubbing alcohol (where to get it) can also be used as a natural astringent for hair. But, keep in mind that it can be harsh on your hair so make sure to dilute it well before application! You can make this DIY dry shampoo spray:
Which of the above natural astringents for hair are you interested in using? Share below!