Yes, you can mix aloe vera and lemon for hair care! Watch your hair become beautiful and luscious naturally!
Oily hair, thinning strands and receding edges…all these hair problems can make you go into an emotional breakdown. But thankfully, no one needs to suffer for long when there are ingredients from Nature that help combat these problems! One of the best remedies for oily hair and hair fall is none other than Aloe Vera!
Recently, I shared a recipe for Aloe Vera and Coconut Oil Hair Growth Magic and it really works in restoring your hair back to its original glory – with consistent use of course! Today I want to share an aloe vera and lemon mix for hair. Here are its benefits:
Reduces oily scalp & hair
Gets rid of dandruff
Stimulates hair growth
Nourish the hair follicles
Strengthen hair
How Aloe Vera and Lemon Help Hair
Aloe vera is nourishing for hair since it contains a lot of nutrients including B-vitamins, Vitamin A, Vitamin C, Vitamin E, folic acid, amino acids, glucomannans, amino acids, lipids, sterols and more. It also contains plant enzymes such as proteolytic enzyme that cleanses the scalp, reduces excess oils in the hair follicles and strands and helps detox hair.
Lemon is a natural astringent. It draws out oiliness from hair follicles and on the hair strands, leaving them excess oil-free. It also makes hair shiny and lustrous! Lemon also busts dandruff and fights scalp acne!
Aloe Vera and Lemon Mix for Hair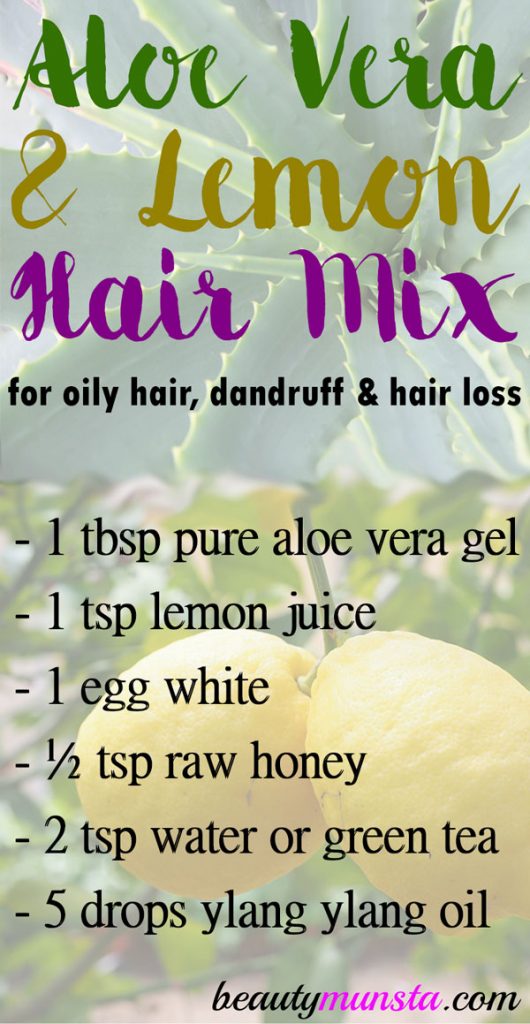 What you need:
1 tbsp pure aloe vera gel
1 tsp freshly squeezed lemon juice
1 egg white
½ tsp raw honey
2 tsp water or cooled green tea
5 drops ylang ylang essential oil
Mixing bowl & spoon
Directions:
Into a mixing bowl, add 1 egg white, 1 tbsp aloe vera gel, 1 tsp freshly squeezed lemon juice, ½ tsp raw honey and 2 tsp water.
Mix them up to combine all ingredients then add 5 drops ylang ylang essential oil.
Now in the shower apply the mixture all over your scalp and hair. It's going to be a bit liquidy and messy but you'll be in the shower so don't worry about it.
Tie your hair up and cover your head with a shower cap.
Leave the mixture to sit for 5-10 minutes. During this time, shave, wash your body or soak in a bath.
When the time is up, rinse off the mixture very well from your hair and lather up with a natural sulfate-free shampoo.
Let your hair dry then be amazed by how silky and soft it looks and feels!
How Often to Apply this Mask
Use this hair treatment 2-3 times a week and leave it on for 5-10 minutes before washing it off.

Aloe vera and lemon for hair is something you must try if you have oily hair, hair fall or even dandruff!
You'll Also Love: