Read on to find out how to use aloe vera and honey for hair growth!
Aloe vera is a great hair growth booster. You can use it on its own directly on your scalp, or mix it up with other hair growth promoting ingredients for enhanced hair growth! One of the ingredients you can add to aloe vera to promote luscious long and thick hair is…honey!
Some people think applying honey to hair will turn it white but this is a myth! Honey does lighten hair but not dramatically. In fact, you won't even see any noticeable changes. If you have blonde hair, you might see subtle natural highlights in your hair, which is totally not a bad thing right?! 😉
Okay, now let's check out what makes aloe vera and honey important ingredients for hair growth:
Aloe Vera Gel – Extracted from the succulent leaves of the aloe vera plant, aloe vera gel is made up of 99% water. The other 1% is filled to the brim with powerful healing substances and nutrients. Some of them include Vitamin A, B12, C and E, folic acid, glucomannans, amino acids, lipids and sterols. These nutrients strengthen & repair hair strands, promotes healthy cell growth, increases blood circulation to the scalp, cool down an irritated and overheated scalp and foster growth of healthy strong long hair.
Raw Honey – Raw honey is very nourishing to the scalp. It not only soothes skin and promotes healing but also boosts hair growth. It full of natural humectants that seal moisture into hair. Raw honey contains vitamins, minerals, active enzymes and antioxidants which all deeply nourish the scalp and stimulate healthy hair growth.
How Aloe Vera and Honey Work for Hair Growth
The best way to use aloe vera and coconut oil for hair growth is by creating a soothing, cleansing and nourishing hair growth mask with them! Here are the instructions for this wonderful mask: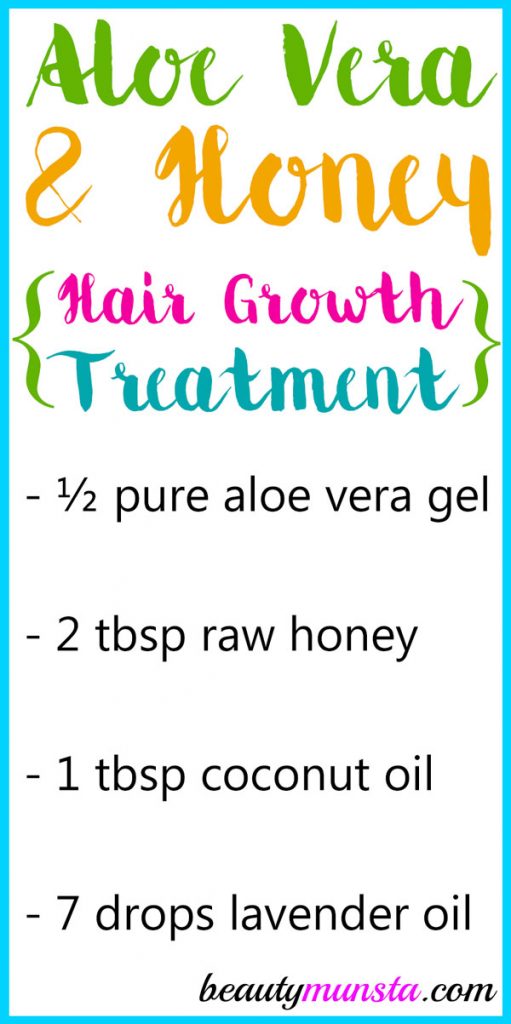 Aloe Vera and Honey Hair Growth Treatment
You will need a hand mixer to evenly whip up your ingredients into a smooth crème. If you don't have a hand mixer, then you can use a regular whisk but you will need to whip the ingredients for about 7 minutes for them to combine and form a creamy consistency.
Also, make sure to store your aloe vera honey mix in an amber glass jar. Light degrades aloe vera which will spoil the mixture faster. You can also store it in a cobalt blue container.
What you need:
½ cup aloe vera gel
2 tbsp raw honey
1 tbsp coconut oil
7 drops lavender essential oil
Mixing bowl
Hand mixer
Amber glass container for storage
Directions:
Into a mixing bowl, add ½ cup of aloe vera gel, 2 tbsp raw honey and 1 tbsp coconut oil. Now whip the three ingredients for 6 minutes to form a smooth cream.
Next add 7 drops of lavender essential oil to the cream and whip for another minute.
Transfer your aloe vera gel and honey hair growth treatment into an air tight amber glass jar.
How to Apply the Hair Growth Mask
Apply about 1 tbsp all over freshly washed scalp & hair.
Let it sit for an hour with your hair in a shower cap.
Rinse or wash it off well after an hour with tepid water. Make sure to avoid conventional shampoos and use a natural non-sulfate shampoo instead for hair growth!
How Often to Apply this Mask
Use this hair treatment 2-3 times a week and leave it on for 1-2 hours before washing it off.

Go ahead and try this effective treatment starring aloe vera and honey for hair growth!
Other Hair Growth Goodies: