Itchy scalp issues are caused by a number of factors including dry scalp, conventional hair products, oily scalp, unwashed hair, scalp infections, dandruff, chlorinated water and so much more. If you're looking for natural remedies, then try out these unusual but cheap ways to treat an itchy scalp once and for all! Don't worry, they work!
DIY Remedies to Treat an Itchy Scalp Naturally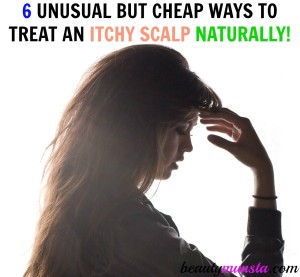 1. Cornstarch
Have you ever heard of using cornstarch as dry shampoo? The first time I used cornstarch as dry shampoo, my scalp felt instantly soothed! Cornstarch also helps treat an itchy scalp by soothing sensitive skin & reducing oiliness on the scalp and hair. To use, simply sprinkle a little all over your scalp using your fingers then comb your hair. If you have dark hair, add cocoa powder as needed to make the cornstarch darker. You can also store it in an empty salt shaker and just shake it onto your scalp and comb through to distribute it evenly. This is a remedy that brings quick relief, for example, at night when you can't stand the itch. You can wash your hair with a gentle cleanser the next morning.
2. Mayonnaise
Mayonnaise for hair is no new concept – it has been used since ancient times to add shine to dull locks, lubricate frizzy hair, nourish damaged hair and get rid of lice. Since its rich in nourishing eggs, it strengthens hair, hydrates it as well as promotes hair growth. It's also rich in fatty acids that moisturize and heal a dry, itchy and sensitive scalp. The lemon/vinegar content in mayonnaise disinfects the scalp. To use mayonnaise, simply get 2 tbsp and start massaging it on your scalp. Then cover with cling film and wait for 30 minutes. When you finally wash your hair, your scalp will feel soothed and healed!
3. Coconut Oil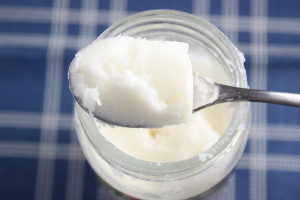 Extremely soothing to skin, coconut oil is another effective way to treat an itchy scalp naturally. It is rich in fatty acids that combat a dry scalp and its antimicrobial properties fend off germs and microbes that cause scalp itchiness. Coconut oil also penetrates deep into the hair follicles and nourishes them, hence promoting hair growth! To use coconut oil, simply place two tbsp in a small bowl and add 3 drops of soothing lavender essential oil. Mix together then apply it all over your scalp. Place a shower cap over your hair and leave it to work for about an hour. Then wash your hair as usual.
4. Baking Soda
I sometimes use baking soda in place of shampoo to cleanse my scalp and the end result is a squeaky clean and soothed scalp! It not only acts as a natural scalp cleanser but is an effective home remedy for itchy, stinging and painful scalp issues as well. To use baking soda to treat an itchy scalp, simply combine 2 tbsp of baking soda and enough water to create a paste. It shouldn't be watery or have a thick consistency– but somewhere in between. Then part your hair and apply it all over your scalp. Wait for about 5 minutes then rinse off thoroughly and follow up with an apple cider vinegar hair rinse to counteract the alkalinity of the baking soda.
5. Apple Cider Vinegar
Get the raw apple cider vinegar with the 'mother' for full benefits. Apple cider vinegar is rich in powerful antioxidants and probiotics that eat up dead cells on the scalp. It kills of germs and microbes that are known to irritate the scalp and lead to dandruff. Raw ACV is also a natural astringent that fights off excess oils clogged in the hair follicles that lead to dirty and itchy scalps. Use apple cider vinegar as a hair rinse after washing your hair by combining 2 cups of water, 1 tbsp of apple cider vinegar and 4 drops of lavender essential oil (*optional to mask the smell). Pour this on your scalp and length of the hair then massage your scalp before finally rinsing it out with cold water.
6. Ginger Water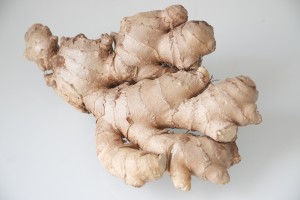 Ginger is a superfood that not only treats poor digestion but also gets rid of itchy skin! It's also a powerful detoxing ingredient that draws out impurities and dirt from deep within hair follicles. Another thing about ginger is that it stimulates hair growth! When applied on the scalp, it gives a tingling sensation that is said to awaken hair follicles to promote hair growth. To make ginger water, steep 1 inch of grated ginger in 1 cup of water overnight. The next morning, filter the ginger water into a spray bottle and spritz it all over your scalp after a shower. It smells good too! Store in the refrigerator – it lasts for about a week.
And last but not least:
7. Stop Washing Your Hair

…with conventional hair products! Stop using chemical laden and SLS shampoos completely. I know, this sounds unbelievable. You must be thinking how on earth you're going to stop using shampoo when it's basically what keeps your scalp and hair clean. Here's the thing – maybe it's overly cleansing your scalp that's causing your scalp to itch. Over cleansing strips your scalp of its natural oils that are necessary for moisturization, conditioning and preventing itchy scalp! Now, before you start asking more questions, I want you to know that you obviously must wash your hair but only without store-bought chemical stuff. There are so many natural sulfate-free shampoos and one of my favorites is this Maple Holistics Sage Shampoo with jojoba, argan and tea tree oils -it's excellent for itchy scalp, dandruff and boosting hair growth! There are also many hair cleansing ingredients that people have been using since ancient times. Some of them include: eggs (I know what you must be gagging right now, but try my egg shampoo recipe and you'll see how it works! And no, it's not slimy OR smelly), then there's garbanzo bean flour, rhassoul clay, coconut milk and liquid castile soap (this one foams so I suggest starting with it first as you enter this no 'poo hair cleansing journey). To use the non-foaming ingredients, simply apply on your scalp and hair, then work with your fingers to loosen the dirt/stale oils out of your scalp and hair. Rinse thoroughly afterwards.
Other Natural Scalp & Hair Care Resources:
All Natural Hair Care Guide with Essential Oils
Want to know more about essential oils for hair and how to make scalp & hair care recipes with essential oils? Check out our Complete Guide to Using Essential Oils for Scalp & Hair Care that talks about the magical properties, benefits & uses of essential oils for your scalp and hair with over 100 recipes to make your own chemical-free hair products for a healthy scalp and beautiful hair.
DIY Herbal Hair Oil Infusions Guide with Recipes
Want to make your own herbal hair oils? Check out our DIY Herbal Hair Oil Infusions eBook that contains an A-Z list of healing herbs and spices to infuse for hair, what base oil to choose for your hair type, methods of infusing your hair oils plus over 20 exciting hair oil recipes for dry hair, itchy scalp, heat damaged hair, hair growth, even gray hairs, scented hair and more!
Do you have any other natural remedies to treat an itchy scalp naturally? Please share below!