Learn how to make a DIY itchy scalp shampoo to get rid of that itch once and for all!

An itchy scalp can be super frustrating. Once your scalp starts itching, you can't concentrate on anything but the blasted itchiness! For some people, the itchiness persists even after they vigorously shampoo and wash their hair. This is common because there are various causes of itchy scalp, including dry skin, seborrheic dermatitis, fungal scalp conditions that may be worsened by store-bought shampoos. What's more an itchy shampoo can be caused by the chemicals in store-bought shampoo!
That's why in this post, I'm sharing a gentle but effective DIY itchy scalp shampoo recipe that is natural and contains just a few ingredients.
Before we look at the recipe, here are the benefits & uses of the ingredients:
What Each Ingredient Does
► Liquid castile soap – A natural plant-based soap, liquid castile soap gently cleanses the scalp and hair without being harsh. It forms a lather which makes it easy to use. It can be used on sensitive scalps.
► Distilled water – This is a must. Normal tap water can make the shampoo get spoiled very fast.
► Soy lecithin – Acts as the emulsifier to combine everything together. It's a must if you don't want the shampoo to separate.
► Coconut oil – A moisturizing oil that easily penetrates into the scalp, coconut oil is good for dry and itchy scalps. It's also naturally antibacterial which means fights off germs that cause scalp itchines s.
► Tea tree essential oil – A powerful antiseptic, tea tree oil disinfects the scalp. It helpsby killing off germs and microbes that irritate the scalp and cause it to itch.
► Lavender essential oil – This oil is soothing and anti-inflammatory. It helps get rid of scalp inflammation which is known to cause itchiness.
DIY Itchy Scalp Shampoo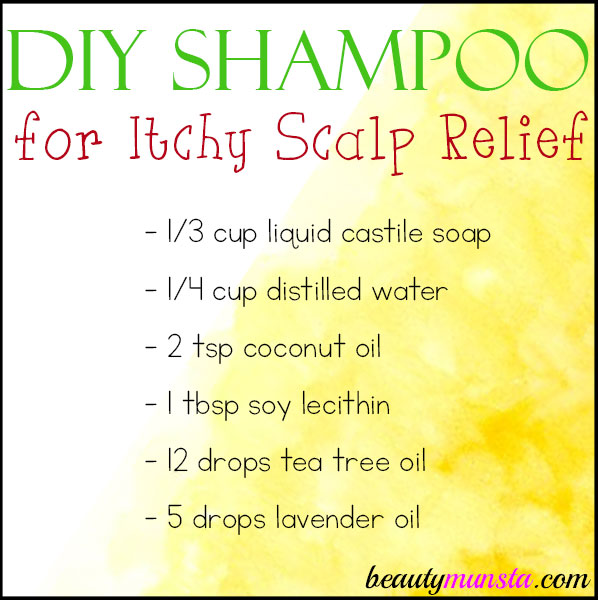 What you Need
Directions
Add the liquid castile soap, soy lecithin, coconut oil and distilled water into the Pyrex measuring cup.
Get your immersion blender and blend the ingredients until well combined.
Then add the essential oils and blend again till well mixed.
Pour your DIY itchy scalp shampoo into a flip top bottle.
Store in a cool dry place. It will last you a month or more! Just make sure not to get any tap water into it.
If you try this itchy scalp shampoo out, please come back and share your results! 🙂