Try any of these 5 vegetable glycerin recipes for hair below! They'll leave your hair feeling and looking fantastic!
Most people who use vegetable glycerin on their hair love it so much! It is a great humectant which means it seals moisture into hair strands, keeping it looking hydrated and lovely! I've written about 20 Beauty Benefits of Vegetable Glycerin before on the blog. So let me quickly share some of its luxurious benefits for hair, in particular below:
Humectant – As mentioned above, vegetable glycerin is a great humectant. It seals moisture from the surroundings into your hair!
Hair conditioner – Want to condition your hair? Try using vegetable glycerin! You can use it in a leave-in conditioner or make an easy hair conditioning mask – I'll share the recipes below.
Scalp soother – Vegetable glycerin gives a soothing and cooling sensation when applied to skin. This makes it great for reducing inflammation, irritation, itchy scalp, scalp acne and even scalp infections.
Can be used to make shampoo – Yes, it's true! Vegetable glycerin is a super cool ingredient to add to your DIY shampoo recipe! It not only moisturizes hair but also helps your shampoo lather better! I'll share a shampoo recipe starring vegetable glycerin for dry hair below!
As you can see from above, vegetable glycerin is best suited to dry, frizzy, thirsty, curly hair. It works for coily, kinky hair more than oily fine hair!
Okay, onto the recipes!
5 Vegetable Glycerin Recipes for Hair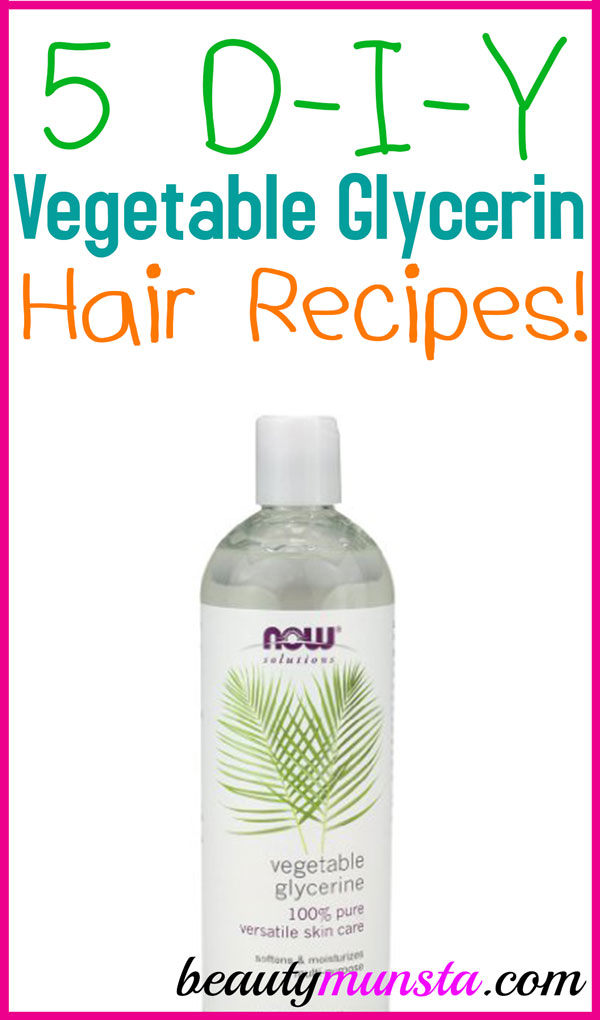 1. Easy Hair Conditioning Mask
What you need
¼ cup aloe vera gel
¼ cup vegetable glycerin
Small bowl & whisk
Directions
Mix the two ingredients together in a small bowl.
Apply to shampooed hair and allow it to rest for 10 minutes.
Then wash off with cold water for glistening locks!
2. Moisturizing & Nourishing Shampoo for Dry Hair
What you need
½ cup thick coconut milk
¼ cup vegetable glycerin
3 drops rosemary oil
3 drops lavender oil
3 drops cedarwood oil
3 drops geranium oil
Funnel
Bottle for storage
Directions
Get a clean bottle and put a funnel on it. Gently pour ½ cup of thick coconut milk and ¼ cup vegetable glycerin.
Next add 3 drops each of rosemary, lavender, cedarwood and geranium essential oils.
Cap tightly and shake the bottle very well to mix everything up.
Massage onto your scalp and hair in the shower, leave it on for 5 minutes (use this time to soap up the rest of your body).
Rinse off very well with cold water.
3. Must Try Leave-In Conditioner
Lovely recipe from Kristin Collins Jackson from Bustle!
What you need
8 oz coconut oil
1 oz aloe vera gel
1 oz vegetable glycerin
1 oz sunflower oil
1 tsp castor oil
8 drops of lavender essential oil
4 drops of clary sage essential oil
Amber bottle
Blender
Directions
What you're going to do is dump all ingredients into a blender (except the essential oils because their scent can cling to the blender).
Now blend for a few seconds until your get a smooth mixture.
Pour it into an amber bottle.
Add the essential oils carefully, drop by drop.
Cap the bottle tightly and shake well to evenly distribute the essential oils.
Apply on damp hair then style as usual.
4. Fresh Hair Spritz
What you need
4 oz distilled water
1 ½ tbsp vegetable glycerin
1 tbsp olive oil
½ tsp raw honey
5 drops lavender oil
Funnel
Spray bottle
Directions
Into a spray bottle, pour 4 oz of distilled water.
Next add 1 ½ vegetable glycerin, 1 tbsp olive oil, ½ tsp raw honey and 5 drops lavender oil.
Screw on the cap tightly and shake the bottle to mix things up.
Spray this on your hair right after a shower.
You can also spray it before applying something heavier like pomade or an oil to seal moisture into your hair before styling.
5. Hair Detangler Spray for Curls
What you need
3 oz distilled water
1 tbsp aloe vera gel
1 tbsp vegetable glycerin
10 drops ylang ylang oil
Funnel
4 oz spray bottle
Directions
Pour 3 oz of distilled water into a 4 oz spray bottle.
Add the other ingredients.
Cap the bottle and shake well.
Your hair detangler is ready!
Spray on your hair then comb it to detangle. Leave it on your hair and go ahead and style or apply a heavier product for more hold & moisturization.
Do you have any vegetable glycerin recipes for hair you love and would like to share? Please go ahead!