If you've stumbled upon this page, then chances are you've dyed your hair recently, hate the color and want it out. Don't worry – you can get rid of it using an ingredient sitting right in your kitchen at this moment: baking soda! Below is a recipe for DIY hair color remover with baking soda.
Removing hair color can be done without going through a big procedure. You just need baking soda, Head and Shoulders shampoo and liquid castile soap. These ingredients will gently help strip the color off your strands without damaging it.
But keep in mind you need to moisturize your hair afterwards using conditioner otherwise, your hair might be dry and brittle.
Okay, now onto the DIY hair color remover recipe!
DIY Hair Color Remover with Baking Soda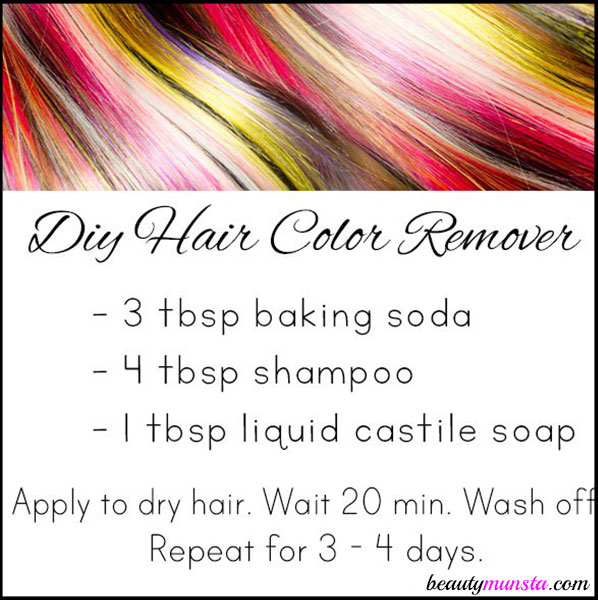 What you need
Directions
In a medium sized bowl, dump in 4 tbsp of shampoo and 1 tbsp of liquid castile soap. Now slowly add the baking soda while stirring.
Once you've created your mixture, start applying it onto dry hair until saturated.
Now let it sink in for at least 20 minutes. Throw on a shower cap or plastic cap on your head so that the mix can penetrate deeper.
When the time is up, wash off very thoroughly with tepid water.
You'll notice the dye has gone off considerably but it won't all wash off in the first attempt. Try it for 3 – 4 days after this.
Slather your hair in conditioner after the hair color remover then rinse off to prevent your hair from drying out and becoming hard.
Notes
You can use any shampoo but anti-dandruff shampoos like head and shoulders and prell work best.
Instead of liquid castile soap, try dish soap: it's more available and stronger but can be harsh on your hair. It works though so use at your own discretion.
Have you tried making your own DIY hair color remover before? What ingredients worked best for you? Share your experience in the comments to help others 🙂