Make yourself a nice and soothing DIY chamomile shampoo for your scalp and hair!
Chamomile tea is so calming. Drinking it can immediately give you peace of mind, release anxiety & negative feelings plus soothe an aching belly. But did you know that this calming tea also benefits the scalp and hair? Yes, folks use chamomile tea to make yourself a chemical-free shampoo that will offer your hair more benefits than ever!
Some of the benefits of using this DIY chamomile shampoo include:
Reduce scalp inflammation
Fight dandruff
Help heal scalp irritation & redness
Treat scalp fungal problems
Make hair shiny and glossy
Naturally condition locks
Strengthen the hair shaft
And more
Aren't the benefits of chamomile tea amazing?! Read more in my article: 12 Beauty Benefits of Chamomile Flowers
Okay now let's get onto the DIY chamomile tea shampoo recipe:
DIY Chamomile Shampoo Recipe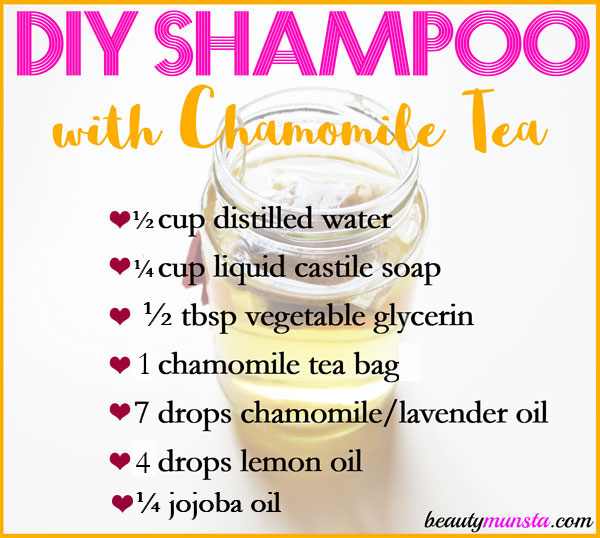 What you need
Directions
Begin by making your chamomile tea: Boil the distilled water then add 5 chamomile tea bags and let them steep for 20 minutes.
After steeping, let the chamomile tea cool down completely then pour it into your flip top bottle using a funnel. You can also use an old shampoo bottle.
Now gently pour in the liquid castile soap using the funnel. Also add the vegetable glycerin.
Finally, carefully drop in 7 drops of chamomile essential oil and 7 drops of lemon essential oil.
Shake gently to combine everything into an emulsion. Your DIY chamomile shampoo is ready! Store in a cool dry place, preferably your refrigerator. This shampoo will last about 1.5 months. Make sure not to get any tap water and other contaminants into it.
Use as you would normal shampoo! To naturally condition your hair, apply 1/2 tsp of coconut oil to the length of your hair as a leave-in conditioner.
Go ahead and try this DIY chamomile shampoo recipe out! Lemme know how it goes for you xoxo