Hey guys! I'm back with another homemade shampoo recipe! Yup that's right – it's this DIY shampoo with witch hazel!
Remember when I shared 20 Beauty Benefits of Witch Hazel for Skin, Hair & More? I talked about the cleansing effects of witch hazel didn't I? Well, that's one of the reasons witch hazel can also be used to make homemade shampoo! You can make a gentle cleansing shampoo that's safe enough to use on baby's hair using witch hazel! Before we check out the recipe, here are some hair & scalp benefits witch hazel has to offer:
Gets rid of excess oils on scalp & hair
Cleanses the scalp naturally
Soothes scalp inflammation
Treats scalp acne
Helps relieve scalp itch
Fights dandruff
Reduces greasy hair
Okay, now let's check out the diy witch hazel shampoo recipe!
DIY Shampoo with Witch Hazel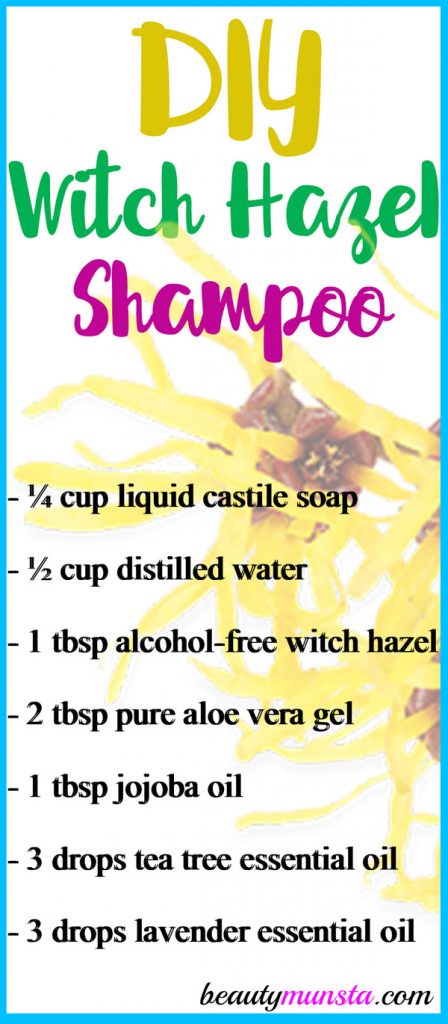 What you need:
¼ cup liquid castile soap
½ cup distilled water
1 tbsp alcohol-free witch hazel
2 tbsp pure aloe vera gel
1 tbsp jojoba oil
3 drops tea tree essential oil
3 drops lavender essential oil
Pyrex measuring cup
Old shampoo bottle or any air-tight container
Directions:
Into a Pyrex measuring cup, add ½ cup distilled water, 1 tbsp jojoba oil, 2 tbsp aloe vera gel and 1 tbsp witch hazel.
Next slowly pour ¼ cup of liquid castile soap. Don't pour it in too fast because you don't want to create too many soap suds.
Stir with a whisk till well combined then add 3 drops each of tea tree and witch hazel essential oils. Stir again and voila! Your DIY shampoo with witch hazel is ready!
Pour it carefully into an old shampoo bottle or any airtight container of choice. Store in your bathroom cabinet. Use as your usual shampoo.
PS: You can also use this as body wash, did you know! 😉

Okay guys, that's how you make a DIY shampoo with witch hazel! Try it out and let me know how it goes!