A fan of making your own deodorants? Try this homemade deodorant spray with baking soda! It keeps the stank out, feels refreshing and is totally easy to apply!
Deodorant sprays are awfully convenient and when you make your own, it's even more convenient. You can literally mix up your ingredients in seconds and have a homemade deodorant spray. It contains just a few ingredients but is sure powerful enough to do its job wonderfully! The base ingredients we'll be using are water-based since this is a spray recipe. Check them out:
Witch hazel – A good base ingredient for a spray/roll on deodorant, witch hazel is light, antibacterial and refreshing.
Aloe vera gel – Aloe is naturally cooling and soothing in nature. It's a good base for essential oils and it prevents irritation and redness on the sensitive underarm skin. You can also use aloe vera juice as a substitute.
Baking soda – Baking soda absorbs sweat and neutralizes body odor.
Essential oils – The essential oils we're going to be using are antibacterial & have nice scents. They are: tea tree, myrrh, lavender, rosemary & patchouli. Mixed together, they create a cool, sweet, herbal & slightly musky scent that's great for both men and women. If you like, use your own fav essential oils to create a custom scent.
Homemade Deodorant Spray with Baking Soda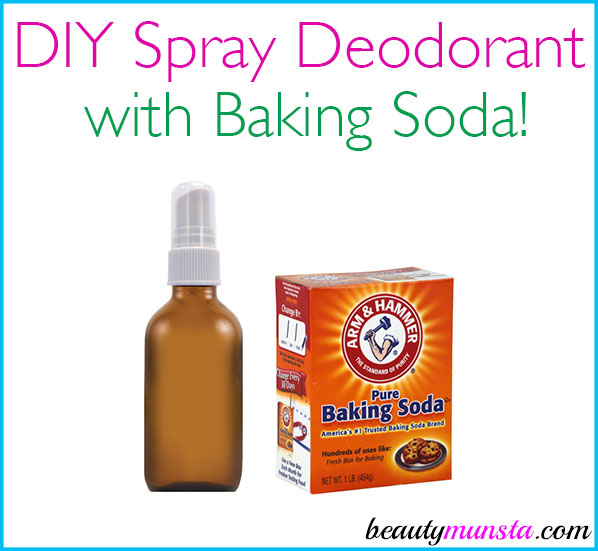 What you need
Directions
Simply add all the ingredients into a spray bottle then shake well to combine.
Voila! Your homemade deodorant spray with baking soda is ready! Store it in a cool, dry place away from sunlight.
Make your deodorant portable by pouring it into tiny travel-size spray bottles! Then you can keep a bottle in your handbag, gym locker, backpack, office drawer, etc!
Okay, guys, try this homemade deodorant spray with baking soda and come share your results with moi! xoxo