Make a soothing and cooling DIY aloe vera deodorant following this easy and effective recipe! 
Aloe vera is an incredible skin care ingredient. It's used to treat sunburns, sensitive skin, skin rashes, irritations, inflammatory skin conditions and more. It has a soothing and cooling effect when applied on skin. This makes it a good ingredient to use in a soothing and cooling deodorant recipe like this DIY aloe vera deodorant!
Without further ado, let's check out the recipe now:
DIY Aloe Vera Deodorant Recipe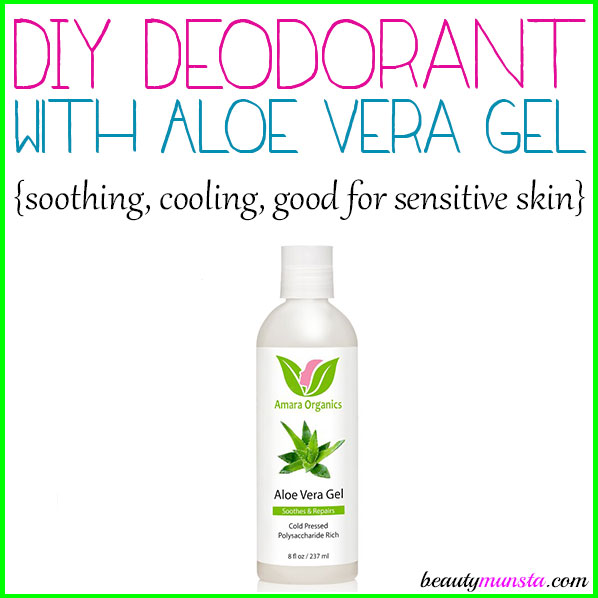 What you need
Directions
Place 4 tbsp of shea butter in a small pan on the stove top.
Gently melt it down over a low heat. Don't turn up the heat because we don't want the nutrients to be destroyed with high heat.
Once melted, turn off the heat and add the aloe vera gel, baking soda and arrow root powder.
Stir well to form a creamy paste. If you're aloe vera gel isn't mixing well, use a hand mixer or whisk to blend it up evenly. Lastly stir in the tea tree and lavender essential oils.
Pour your creamy mixture into deodorant tubes or a glass container. If using a plastic container, then first completely cool your deodorant for 10 minutes. It will become more firm but you can still scrape it into the container.
That's it! Your DIY aloe vera deodorant is ready! Let it set in the refrigerator for 30 minutes before use! If storing in a container, scoop out just a pea-sized amount each and apply on clean underarms.
Are you going to try this DIY aloe vera deodorant? Please make it and come share your results with me! xoxo