Learn how to make your own homemade spray deodorant with tea tree oil to fight bad odor and keep your underarms fresh and clean!
Spray deodorants are so easy to make! All you need is distilled water, essential oils and a liquid ingredient to emulsify the essential oils. For this recipe, I'm using witch hazel to emulsify the essential oils but you can also use aloe vera gel.
Before we move on to the recipe, let's explore the benefits of tea tree oil that make it a good ingredient for making deodorant!
Why Tea Tree Oil?
Here are a few reasons tea tree is useful in this deodorant recipe:
Antibacterial properties. Tea tree is a powerful antibacterial oil. Bacteria is responsible for bad body odor so tea tree oil helps fight this by killing bacteria.
Disinfectant. When you smell tea tree, you can immediately think of cleaning products because of its strong fresh scent. Since it's a potent antiseptic ingredient, tea tree oil disinfects, cleanses and purifies skin.
Fresh herbal scent. Tea tree has a fresh herbal and medicinal scent that is strong and can mask bad body odor. You can use around 7 to 14 drops of tea tree oil for this recipe, depending on your skin's sensitivity. If you have sensitive skin, then add less drops of essential oil to prevent irritation.
Homemade Spray Deodorant with Tea Tree Oil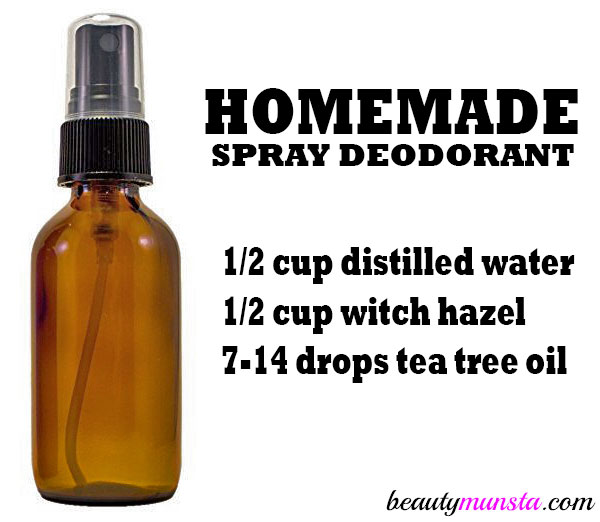 What you Need
Method
In a Pyrex measuring cup, mix the essential oils in the witch hazel until well combined.
Now add the distilled water and tea tree oil.
Stir everything up and that's it! Your homemade spray deodorant with tea tree oil is ready!
Now all you have to do is transfer it into the amber glass spray bottle.
Store your deodorant in a cool and dry place. It will last over 3 months, provided you keep it away from contaminants.
Notes
The reason we're using an amber colored bottle is to protect the deodorant from light rays which shorten its shelf life. You may use a clear spray bottle but make so it's glass because essential oils are known to react with plastic.
You can store your deodorant in the refrigerator if you prefer.
Please do a patch test with tea tree oil on your inner elbow so you can check if you might be sensitive/allergic to it. If you notice any irritation in that area, wash it well and do not use tea tree. You might want to try other essential oils like lavender or rosemary.
Be careful with essential oils – a little goes a long way and since we'll be using it on sensitive underarm skin, do not use more than the recommended amount, which is 1 drop per tsp of base ingredient (with hazel & distilled water, in this case).