Fancy a non-greasy refreshing deodorant for the summer? Then make this homemade gel deodorant! It's so easy plus it works really well!
During summer, most homemade deodorant recipes can turn out pretty useless since they end up melting to liquid and feel oily on skin – ick! Let's not forget the oily patch they can create on your shirt – double ick!
Fortunately, there are some good deodorant recipes I've shared on the blog that are good for the summer: DIY Milk of Magnesia recipe, Homemade Deodorant Spray with Tea Tree Oil, Homemade Deodorant Spray with Baking Soda, DIY Roll-On Deodorant and a Homemade Deodorant without Coconut Oil.
Now I present another recipe to add to my collection of deodorant recipes that work: Enter this Homemade Gel Deodorant!
It's actually very easy to make this deodorant because we'll be using just 4 ingredients. You just need to have a wire-whisk to combine all ingredients together.
Onto the recipe:
Homemade Gel Deodorant for the Summer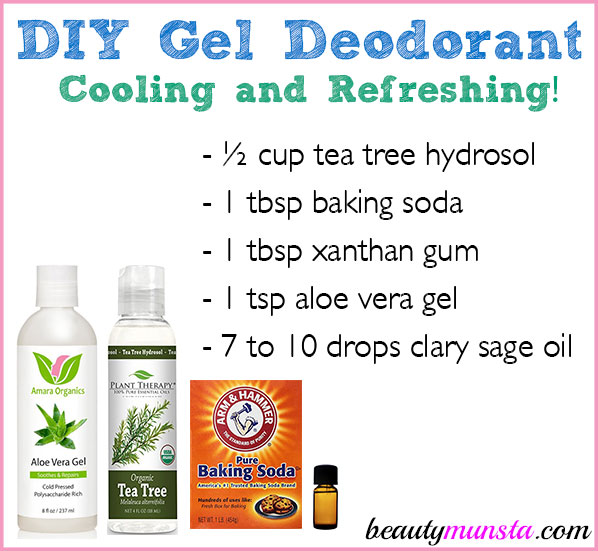 What you need
Directions
Heat the tea tree hydrosol till warm.
Now add the baking soda and stir it in the hydrosol until it dissolves completely.
Pour your hydrosol – baking soda mixture into your Magic Bullet and add the aloe vera gel and xanthan gum.
Ready to blend! Blend away for a few seconds to form an emulsion, creating a gel-like mixture.
Now pour the mixture into a gel deodorant container and add the drops of essential oil.
Close the container and shake well to mix. Or mix it with a disposable chopstick before closing it.
Your homemade gel deodorant is ready for use!
Are your ready to try out this homemade gel deodorant recipe? Let me know your thoughts in the comments below!