Looking for DIY deodorant recipes? Check out my favorite recipes on the blog! They all work very effectively, if I do say so myself!
This is a pretty huge list so let's get right onto it, shall we?
15 Best DIY Deodorant Recipes | Homemade & All-Natural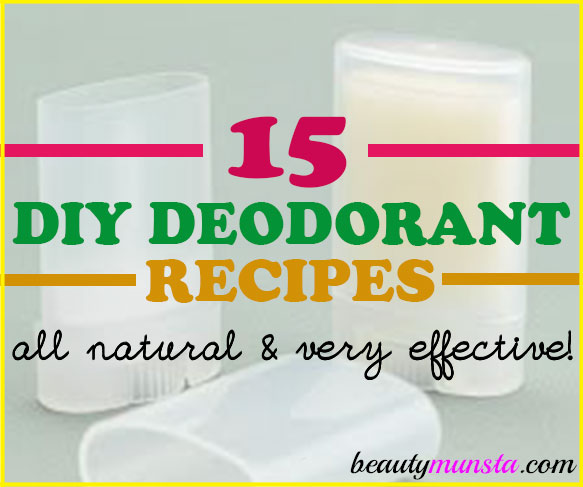 1. Homemade Deodorant with Beeswax
Beeswax can be heavy and icky when used in deodorant recipes. Especially during the summer. It can melt on your skin and feels a bit gross. That's why I shared this homemade deodorant without beeswax! Check it out!
2. DIY Aloe Vera Deodorant Recipe
Aloe vera is a refreshing ingredient to add to DIY deodorant recipes! It has skin soothing and cooling properties that make it good for sensitive underarms! Learn how to make a DIY aloe vera deodorant here.
3. Milk of Magensia Deodorant Recipe
Milk of magnesia is a great deodorant on it's own, did you know? But when combined with other powerful odor-fighting ingredients, it creates a well-worth it deodorant that lasts! Go here: DIY Milk of Magnesia Recipe
4. Homemade Gel Deodorant
Gel deodorants are loved by some people who can't stand oil/wax based deodorants. If you're one of them, then you might appreciate this homemade gel deodorant!
5. DIY Deodorant with Activated Charcoal
Nope, this deodorant won't turn your underarms dark. Activated charcoal is actually known to whiten dark underarms! Okay, the main benefit of a DIY activated charcoal deodorant is that it will help purge toxins and heavy metals from your underarms. This makes it a good deodorant for beginners because you can detox your underarms from the aluminium-containing store-bought deodorants you used before!
6. Homemade Deodorant without Coconut Oil
Coconut oil is great for DIY deodorants except for one thing – IT CAN MELT! If you live in a hot country or its summertime, your deodorant with coconut oil will melt and become liquidy. Not cool. That's why I'm sharing this totally cool homemade deodorant without coconut oil!
7. Magnesium Oil Deodorant Recipe
A DIY magnesium oil deodorant is a creative way of getting more magnesium into your body. Many people are magnesium deficient so make this deodorant to get your daily dose of this much-needed mineral!
8. Homemade Deodorant for Sensitive Skin
Got sensitive skin? I've got you covered with this soothing and gentle homemade deodorant for sensitive skin. It's totally safe!
9. DIY Roll-On Deodorant
Roll-on deodorants are awfully convenient! Don't you agree? Make this DIY roll-on deodorant for non-messy no-hassle application. You can store the roller bottles practically anywhere – your purse, pocket, gym locker, office drawer, car, etc.
10. Homemade Deodorant Spray with Baking Soda
Homemade sprays are also very convenient, easy to use, and non-messy. Try this one out!
11. Homemade Deodorant without Baking Soda
Let's face it – baking soda can be very irritating. One of my DIY pet peeves is seeing deodorant recipes that call for ½ cup of baking soda. Goodness! If you do that, it's just like setting your pits on FiYaH! If baking soda is a no-no for you, please follow this homemade deodorant without baking soda.
12. Homemade Deodorant Spray with Tea Tree Oil
Make this refreshing and antibacterial homemade deodorant spray with tea tree oil!
13. DIY Himalayan Salt Deodorant
Himalayan salt is a good additive for DIY deodorants! Here, I've shared two DIY Himalayan salt deodorants – one is a spray and the other a roll-on!
14. DIY Deodorant with Bentonite Clay
Want to detox your underarms? Or have sensitive skin? Or want to reduce irritation? Bentonite clay is your savior! Try this DIY bentonite clay deodorant and you'll know what I mean!
15. DIY Sunscreen Deodorant with Zinc Oxide
In summer, you'll want a deodorant that doubles up as sunscreen! Welcome this DIY deodorant with zinc oxide! It's sure to keep nasty sunburns and stinky B.O away! How awesome is that?!
Whew! Those are 15 DIY deodorant recipes here at Beautymunsta.com! Have a fresh clean and beautiful smelling day everyone!