Use this DIY magnesium oil deodorant recipe without beeswax! It works effectively and smells good!
Magnesium oil is a popular addition to homemade deodorant recipes nowadays. Why? Well, it really tackles body odor on a whole new level! You can actually use it straight up on your underarms as a deodorant: just place a little on a cotton round and wipe it on clean underarms.
Adding magnesium oil to your DIY deodorant is also a brilliant way of getting magnesium into your body. Many people are deficient in magnesium and this deficiency causes insomnia, muscle aches, migraines and more. Magnesium is a natural occurring mineral but its natural sources are being depleted fast, leaving little to no magnesium remaining in drinking water, farming soil, etc.
Did you know that magnesium absorbs better when applied topically?! Yep, that's why Epsom salts are becoming very popular ways of getting more magnesium into the body.
So using this DIY magnesium oil deodorant recipe, you're not only going to keep BO away but also get much-needed magnesium into your body! Yay!
Onto the recipe:
DIY Magnesium Oil Deodorant Recipe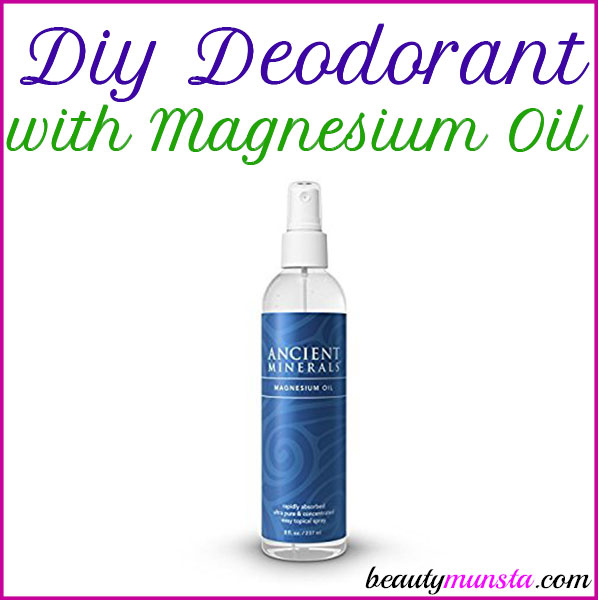 What you need
Directions
Place 4 tbsp of shea butter in a small pan on the stove top.
Gently melt it down over a low heat. Don't use high heat because you don't want to burn the shea butter plus overheating destroys nutrients.
Once melted, turn off the heat and add the baking soda and arrow root powder.
Stir well to form a creamy paste then stir in the magnesium oil and essential oils.
Pour your creamy mixture into deodorant tubes or a glass container. If using a plastic container, then first completely cool your deodorant for 10 minutes. It will become more firm but you can still scrape it into the container.
That's it! Your DIY magnesium oil deodorant is ready! Let it set in the refrigerator for 30 minutes before use! If storing in a container, scoop out just a pea-sized amount each and apply on clean underarms.
This DIY magnesium oil deodorant recipe is AMAZING people! Give it a shot and let me know what you think!