Want a recipe for DIY deodorant with bentonite clay? Find one right here!
When I posted one of my fav go-to diy deodorant recipes, a lovely reader told me she added a little clay to it and it was fantastic. I told her I couldn't wait to get my hands on some clay so I could add some too! You can add any type of clay to your homemade deodorant: kaolin clay, French green clay, fuller's earth clay and bentonite clay. I chose bentonite clay because it's highly praised for its powerful detoxifying properties. Let's see more benefits of bentonite clay for deodorant below:
Sucks out impurities, toxins and heavy metals from the body and in this case, the underarms.
Neutralizes body odor.
Absorbs sweat.
Keeps skin soft, smooth and healthy.
Prevents irritation, rashes and bumps.
Soothes inflammation.
Reduces redness.
Now we've seen the benefits of bentonite clay for deodorant, let's check out the recipe!
DIY Deodorant with Bentonite Clay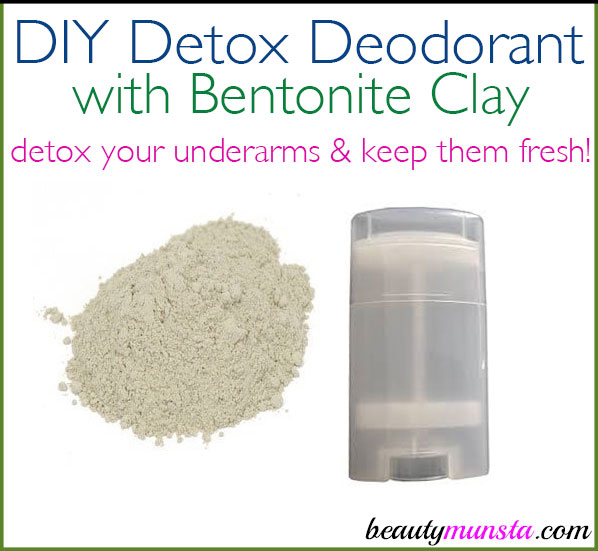 What you need
Directions
Place 4 ½ tbsp of shea butter in a small non-metal pan on the stove top. You can use a ceramic pan. Don't use metal because it makes the bentonite clay lose its potency.
Gently melt it down over a low heat. Don't turn up the heat because we don't want the nutrients to be destroyed with high heat.
Once melted, turn off the heat and add the baking soda, arrow root powder and bentonite clay.
Stir well to form a creamy paste then stir in the essential oil of your choice.
Pour your creamy mixture into deodorant tubes or a glass container. If using a plastic container, then first completely cool your deodorant for 10 minutes. It will become more firm but you can still scrape it into the container.
That's it! Your DIY deodorant with bentonite clay is ready! Let it set in the refrigerator for 30 minutes before use! If storing in a container, scoop out just a pea-sized amount each and apply on clean underarms.
Please go ahead and make this DIY deodorant with bentonite clay and come share your results with me! xoxo