Follow this nice smelling DIY natural body powder recipe that soothes your skin!
It's very good to make your own DIY natural body powder and avoid store-bought powders. That's because conventional body powders or dusting powders, as they're also called, contain a slew of unnecessary ingredients that are linked to serious health issues. Ingredients like talc in body powder are said to cause respiratory problems and even cancer.
To make DIY body powder, you will need natural herbal powders and clays. Use a white powder such as arrow root powder, corn starch or white kaolin clay as your base ingredient. Then you can choose to add herbal powders such as powdered rose petal, powdered chamomile powder and bentonite clay.
DIY Natural Body Powder Recipe
I'm using rose otto essential oil and lavender essential oils for their soothing properties, fresh floral scents and because they're safe enough to use for babies as well. You may choose to use other essential oils for different scents. Some of the best essential oils you can add include geranium, sandalwood, frankincense, vanilla, lemon, etc.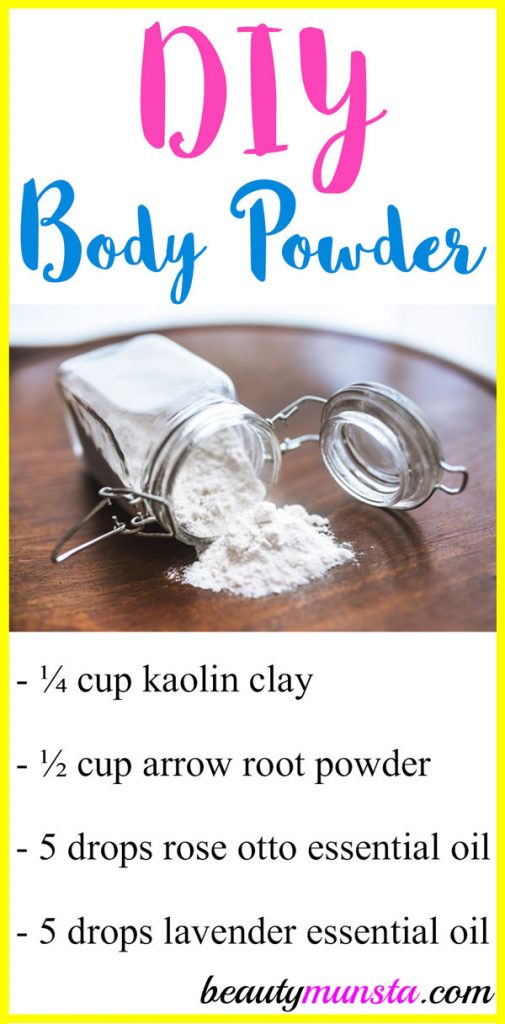 What you need:
¼ cup kaolin clay
½ arrow root powder
5 drops rose otto essential oil
5 drops lavender essential oil
Bowl & whisk
Cheese shaker for storage
Directions:
In a bowl, add ½ cup of arrow root powder and ¼ cup kaolin clay.
Whisk till the powders are combined.
Now place 5 drops of rose otto essential oil and 5 drops of lavender essential oil to the mixture.
Whisk again until the essential oil drops are evenly distributed into the powder.
Your DIY natural body powder is ready! Now place the powder on a flat piece of paper, fold the two sides of the paper and tilt to transfer the powder into a cheese shaker. Store in a cool dry place.
Shake onto your body then smooth it on your skin.

Give this DIY natural body powder recipe a go! You'll love it!