Make a DIY dry shampoo with bentonite clay for clean, non-oily and silky soft hair!
DIY dry shampoo is becoming more and more popular. And that's because it WORKS! If your running late and don't have time to wash & dry your hair, then DIY dry shampoo is just what you need!
Why bentonite clay? It has awesome oil-absorbing properties plus it has a soft consistency. It's also used to soothe irritated skin so it's gentle on the scalp. It keeps away itchiness while soaking up oils.
We'll also be using arrow root powder, cocoa powder and lavender essential oil (for nice scented hair). Instead of arrow root powder, try corn starch. However, if you have dandruff, please use arrow root powder because corn starch may worsen dandruff. Lavender essential oil can be substituted with any of your fav smelling essential oils! For hair, I especially love floral scents like geranium oil, jasmine oil & ylang ylang oil. I also like sandalwood oil (this one's not floral but sweet, warm & woody).
Note: Add cocoa powder a little by little (tsp by tsp) while mixing until it suits your hair color. For dark hair, you'd add more cocoa powder. And for blonde hair, especially platinum blonde, you can completely do without cocoa powder.
DIY Dry Shampoo with Bentonite Clay Recipe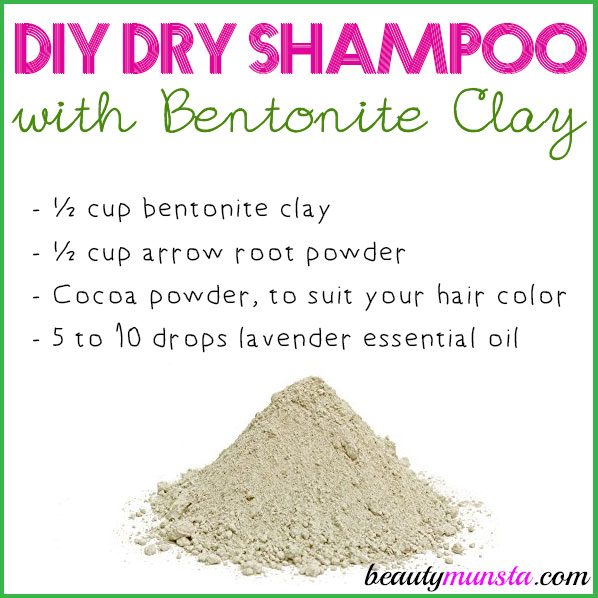 What you need
Directions
In a large bowl, add the bentonite clay and arrow root powder and mix.
Now slowly add cocoa powder, tsp by tsp, until you reach the desired color that suits your hair.
Slowly add the essential oil, drop by drop and mix again.
Your DIY dry shampoo with bentonite clay is ready! Transfer it into a mason jar.
To use, dip a powder brush into the dry shampoo then apply it on your hair line.
Now use the brush to blend the shampoo all over your scalp.
After blending it in, brush your hair and style as usual.
Marvel at your soft silky and clean hair!
I hope you love this DIY dry shampoo with bentonite clay! Try it out xoxo