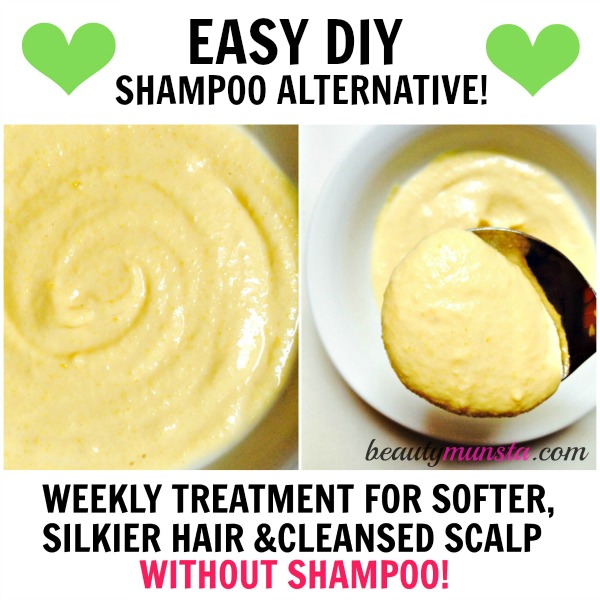 Garbanzo flour is one of my all-time favorite natural hair cleansers for clean, soft and silky hair! It's been almost 2 years since I totally stopped using shampoo – but I'm still able to get my hair squeaky clean, soft, silky and volumized, all without a single drop of shampoo. How do I do it? The answer is using natural hair cleansers such as yucca root, bentonite clay, rhassoul clay and this DIY hair shampoo recipe starring garbanzo flour, nothing more, nothing less. If you still don't believe me, then go ahead and try out the recipe below on your own. You'll be pleasantly surprised and this could be the one thing that finally convinces you to confidently make the move to being shampoo-free for life.
Of course, there are some considerations to keep in mind when using garbanzo flour. Many people complain about getting tiny bits of garbanzo flour granules getting stuck in their hair. When I first began to use garbanzo, I had this exact same problem, but over the years I've come to learn a few tips and tricks that can help you avoid these types of "technical" errors, and I've talked about them in the My Tips section down below. Now let's get on with the recipe!
DIY Hair Shampoo Recipe with Natural Ingredients

Ingredients
• 2 tablespoons of garbanzo flour (get it here)
• 2 tablespoons of Greek yogurt
Directions
1. Measure out your ingredients and fetch a medium sized bowl to mix them up to form a paste.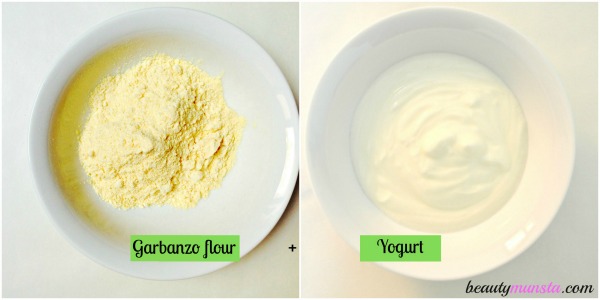 2. In your bowl, begin to gently mix up the flour and yogurt together with a spoon, until you get a smooth paste completely free of any lumps. If your paste is too thick for some reason, feel free to add a few sprinkles of water and mix again.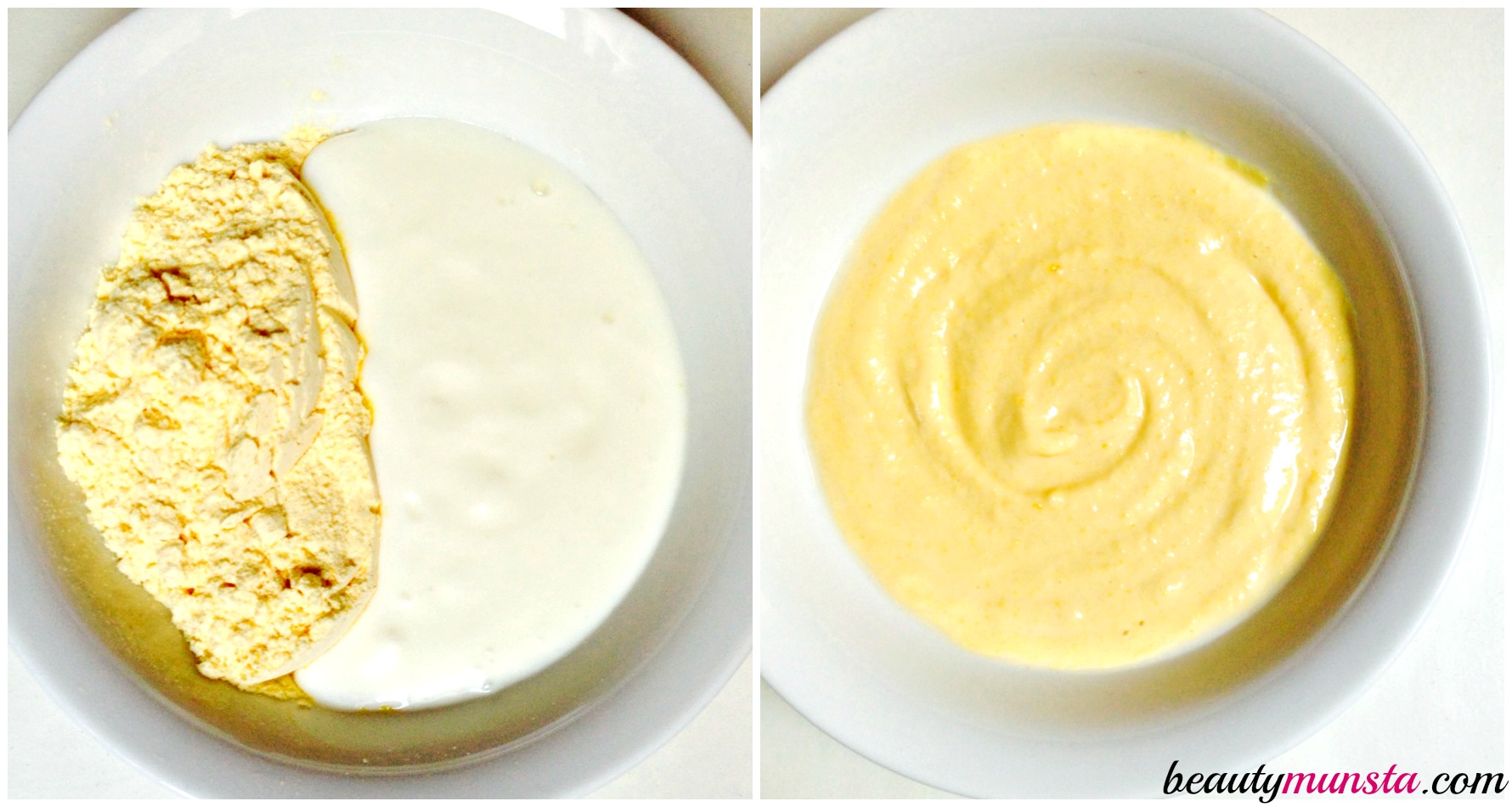 3. Make sure your mask is not too runny, nor too thick. It should be somewhere in between such that it will be easy to dip into and apply onto your hair without running off. The consistency should be like this: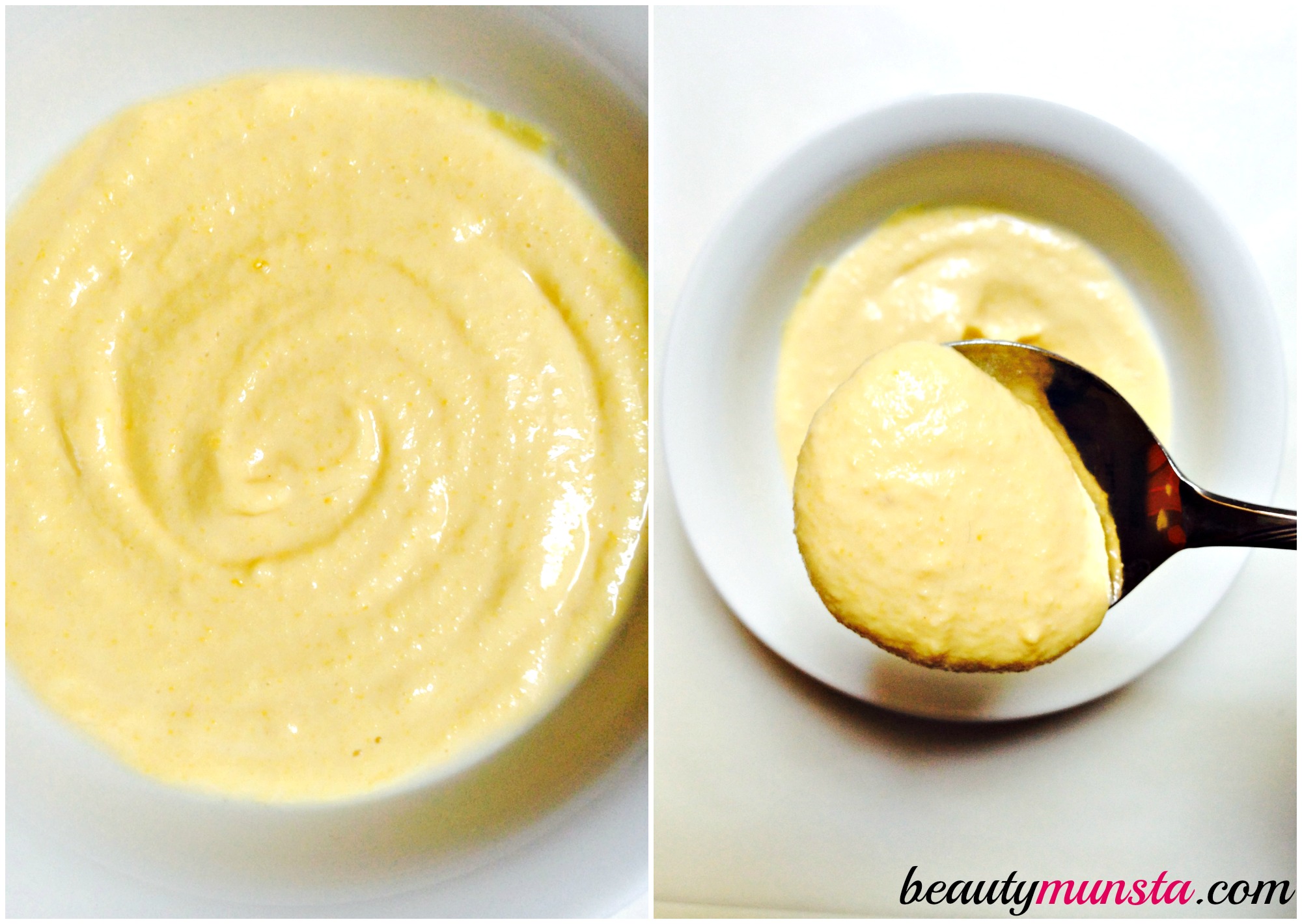 How To Apply the DIY Hair Shampoo:
Always wet your hair thoroughly before applying the DIY hair shampoo . This step is critical to avoid any clumps of garbanzo flour getting stuck on your hair! Rinse your hair and make sure all the strands are wet and then move on to the next step.
Dip a few fingers into the shampoo and begin applying it onto your hair. Continue doing this until your cover as much as your scalp as you can, while saving a portion for the strands of your hair.
Rub or massage your scalp with your fingers allowing the mask to reach deeper and to stimulate blood flow to your scalp. Don't rub too hard or for too long since this mask has exfoliating properties. You can do this step for about 2 minutes.
Now apply the remaining portion of the mask along the length of your hair. Tie up your hair into a loose bun and keep the mask on for 10 – 15 minutes. During this time, you can wash the rest of your body, shave or do any other stuff that's to be done in the bathroom 😉
When the time is up, let down your hair and begin washing it out systematically. Keep running the water through your hair until the shampoo is completely removed.
Congratulations! You just made and used your very own DIY hair shampoo recipe to leave your hair looking fresh, voluminized and softer than ever before. I use this shampoo almost every week and each time, I can't help touching my hair and marveling at how soft it is! That's why I keep coming back to this natural DIY hair shampoo recipe to give my hair the ultimate cleanse.
My Tips
Avoid Clumps: The No. 1 way to avoid clumps in this shampoo is to get the mixing right in the first place. Make sure you mix up your mixture until it's absolutely smooth with no lumps in it. Any dry lumps will adhere to your hair strands and make it difficult to wash off.
Rinse like a Pro: After applying this shampoo , don't be in a rush to get out of the shower. Make sure you take your time and systematically rinse through your hair under running water. I do up to 5 gentle rinses or more to make sure every bit of the garbanzo flour is out of my hair.
Smell Sensational: Who said your hair has to smell bland after giving it an all natural treatment? Take pride that you haven't mistreated your hair with all the artificial fragrances present in conventional shampoo and turn to natural scents and essential oils. After drying out your hair, take your favorite essential oil (I currently use geranium for hair) and apply a few drops of it onto your hair brush. Now brush your hair with it and your hair will smell like a glorious flower straight out of Paradise!