Got flat and greasy locks? Make this homemade shampoo for oily hair – it contains natural ingredients that thoroughly cleanse hair, soak up the excess oils and keep hair looking soft and fluffy!

Oily hair is not attractive and can even cause acne when the hair touches your face! Good thing is, there are lots of ways to get greasy locks under control. You can use DIY shampoos, hair rinses, dry shampoo. Check out my DIY Hair Rinse for Oily Hair and DIY Dry Shampoo for Bentonite Clay, if you're interested!
In this post, I'm going to share a great recipe for homemade shampoo for oily hair. It uses all natural ingredients, is sulfate-free and has a cleansing and oil-control effect on your hair! This recipe is for one time use, meaning you'll make it every time you're going to wash your hair. Don't worry, it's incredibly easy to whip up – it only takes a few minutes!
Let's get right onto the recipe now, shall we?
Homemade Shampoo for Oily Hair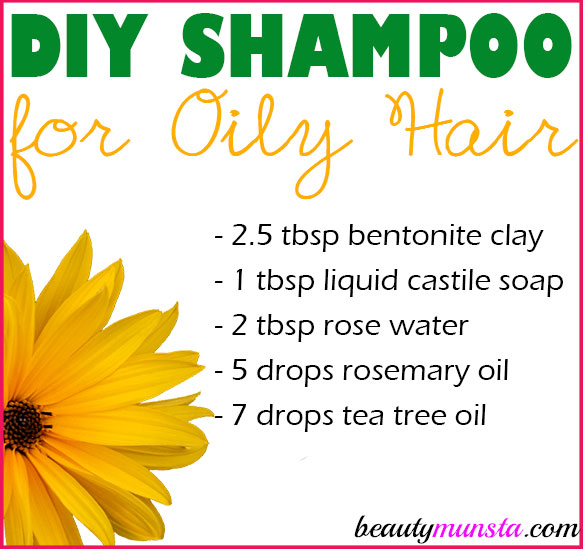 What you Need
Directions
Into a non-reactive bowl, dump in your bentonite clay. What I mean by non-reactive is a non-metal bowl: use plastic, wooden or ceramic bowl because metal reacts with the clay and renders it ineffective.
Now add your rose water and slowly whisk it up until your form a smooth lump-less paste.
Next add the liquid castile soap and mix it in too.
Lastly, add the rosemary and tea tree essential oils and mix until everything is well combined.
Your homemade shampoo for oily hair is ready!
To use, take the bowl to the shower with you and work it into a wet hair and scalp. Leave it to suck up the stale and excess oils for about 2 minutes, while you shave/wash the rest of your body.
Rinse off with warm water then cold water. To condition, you can use this DIY Hair Rinse for Oily Hair. It works as a good conditioner for oily hair! You can also use a tiny smudge of coconut oil to condition.
If you have no time to make your own shampoo + conditioner, please try out my favorite natural sulfate-free Maple Holistics shampoo & conditioner. It's effective for dandruff, oily hair, hair loss and color treated hair too.
I can't wait for your to try out this homemade shampoo for oily hair and come share your results!