Here's a recipe for DIY clarifying sea salt shampoo! It's very easy to make and leaves your hair clean and soft! 
Lush's Big sea salt shampoo is truly incredible – if you've tried it out then you know what I mean! Unfortunately, it is expensive so you can't keep splurging on it unless you got the dime.
For some of us who are DIYer's, we'll do anything to make our own chemical-free copycat recipes. And that's what we're going to do in this post! Welcome this DIY clarifying sea salt shampoo! It's not exactly like the Lush one but it's a good homemade version with no chemicals or artificial stuff!
It uses just 5 ingredients and the fifth is totally optional for scent. Now why sea salt, you may wonder, isn't it damaging to hair? In large amounts, yes, but if you have oily thin and flat hair, then I assure you, you're gonna fall in love with this sea salt shampoo! Let's look at some of the benefits of sea salt shampoo.
Why Sea Salt – How Does it Help?
Ever spent the day at the beach and come back with wavy hair? That's what sea salt can do to your hair! Check out more benefits of sea salt for hair:
Adds volume to thin and flat hair
Helps soak up excess oils from oily hair
Gives hair texture
Clarifies hair
Gets rid of product buildup
Fights dandruff
Removes gunk from the scalp
DIY Clarifying Sea Salt Shampoo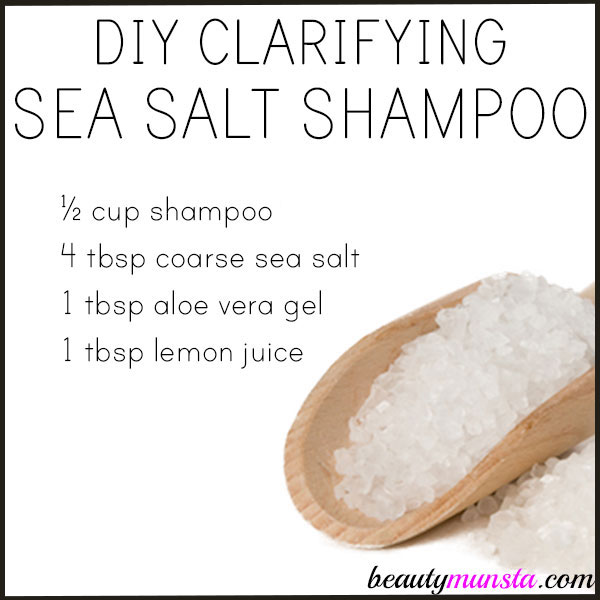 What you need
Directions
In a Pyrex measuring cup add the shampoo, followed by the aloe vera gel, lemon juice and bergamot oil.
Mix well with a whisk until combined.
Now add the sea salt, a tbsp at a time and whisk till you combine everything.
Now pour this into an old shampoo bottle. Store in a dry place. Stir or shake well before use.
To use, pour some shampoo on your hand then rub on your scalp and hair strands.
Let it sit for a minute or two then rinse off very well.
Notes
The sea salt will absorb the shampoo in a while so you'll get up with a solid-like mixture. Don't worry that's how it's supposed to be!
Use 2 – 3 times a week for oily hair. If you have dry curly or wavy hair, then use just once a week.