This is my recipe on how to make banana shampoo for shiny hair. Do this treatment weekly for beautiful results!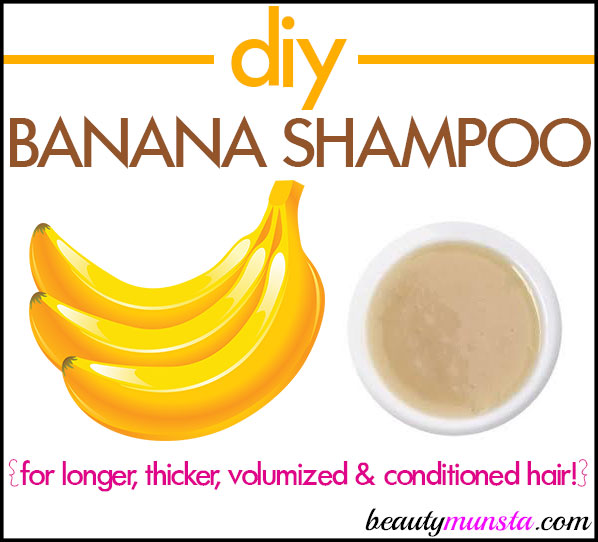 DIY Banana Shampoo
Are you looking for a natural way to perk up your dry, damaged hair?
Or perhaps you're doing the no-poo method and are looking for a simply diy shampoo to clean your hair with?
I've been using the no-poo method for more than 5 years now, and I have shiny, silky hair that practically free of split ends.
This banana shampoo is one of my all time favorites! I never go a week without my weekly egg hair treatment and this diy banana shampoo.
I'm going to share with you all my secrets for the most perfect diy banana shampoo to treat your hair with.
How to Make Banana Shampoo
Making banana shampoo at home could never be easier than this! But there are some tips that you need to follow to make sure it will work as best as possible. I'll be sharing the tips below. But first, let's look at how to make it!
What you need:
Directions:
Peel your bananas, chop them and drop them into your blender.
Now add in the olive oil (or your favorite oil for hair, like argan oil) and close the lid.
Blend for 2 minutes, until you get a very smooth mixture.
This part is very important: Strain your mixture using a medium sieve filter, into a glass jar or bowl.
Once you've strained everything, it is now time to carefully add in the essential oils.
Stir the essential oils using the back of a stainless steel spoon until you're sure it's all properly mixed.
How to Apply Banana Shampoo:
To apply your banana shampoo, all you need to do is first step into your shower!
Wet your hair as usual and then get your banana shampoo and apply it all over your scalp, hair roots and hair ends.
Roll up your hair and place a shower cap over it. Let the shampoo sit on your hair for about 10 minutes.
In these 10 minutes, go ahead and scrub the rest of your body, shave your legs, and so on!
When the time is up, wash your hair as usual. Rinse with plenty of warm or cold water. Avoid hot water, because it can cause the banana shampoo to 'cook' in your hair and get stuck. Also, hot water can cause hair loss and hair thinning. To condition your hair, you can use a tiny amount of coconut oil. But trust me, you don't even have to use conditioner. Your hair will be silky soft and fluffy! Try it as a 2-in1 shampoo + conditioner!
Now dry your hair and style as usual!

What are your favorite no-poo shampoos? How do you make your diy banana shampoo? Share with us so we can all learn!