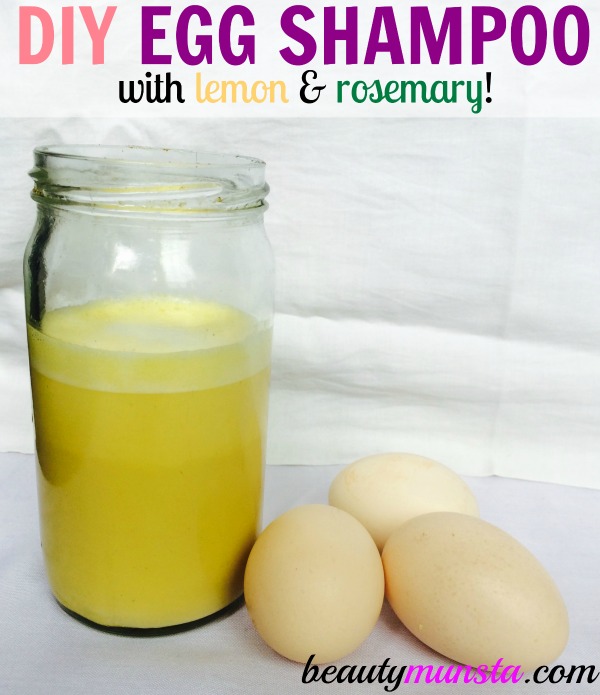 How do Eggs Work as a Shampoo?
You might have used eggs as a hair treatment for hair growth but probably haven't heard of using eggs in place of your shampoo! Though slimy and smelly especially when used on their own(don't worry, this diy egg shampoo recipe is not slimy or smelly!), eggs are natural hair cleansers that actually work in getting rid of dirt, grime, stale oils and dead cells (dandruff). This is because they contain lecithin, a natural emulsifier that work in emulsifying the oils in your scalp and hair with water, thereby helping wash them out, leaving your hair squeaky clean and grease-free! When beaten/blended, eggs turn into a foamy mixture, a sort of lather, which you can naturally and easily wash your hair with. Also rich in fatty acids, water and nourishing nutrients eggs don't only just cleanse your hair but also promote strong, long and luscious locks! Ok, let's look at the ingredients in this DIY egg shampoo recipe below:
What Each of the Ingredients Do
DIY Egg Shampoo Recipe
Here's our diy egg shampoo recipe:
Ingredients
1-2 eggs (depending on your hair length, type & thickness)
3 tsp rhassoul clay (get it here)
4 tsp honey (get it here)
1 tsp coconut oil *optional (get it here)
¼ cup of water
7 drops rosemary essential oil (get it here)
3 drops lemon essential oil (get it here)
Directions
Add all the ingredients, except essential oils, to a high speed blender. Blend until you get a foamy mixture. Transfer to a mason jar then add the essential oils. Mix well with a chopstick. Use immediately or store in the fridge and use within 3 days.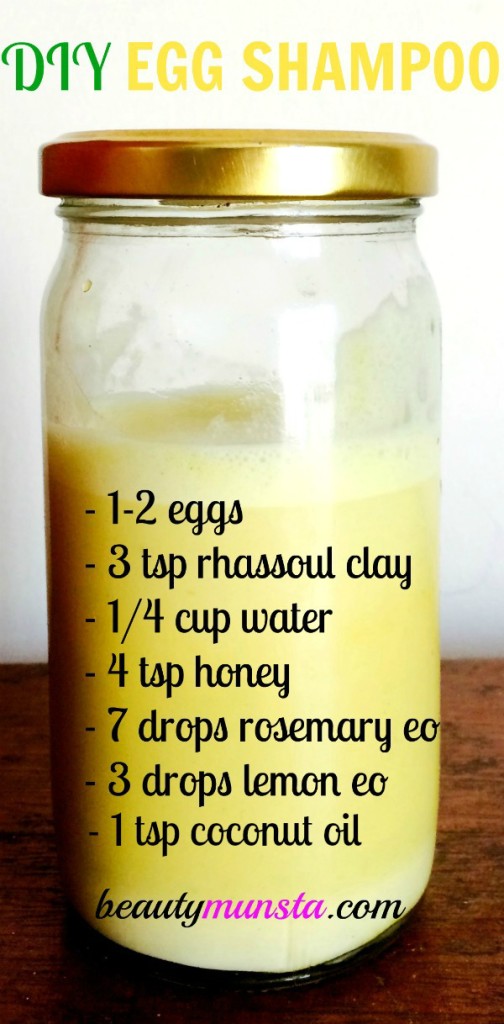 How to Apply Your DIY Egg Shampoo
Stand in the shower and slowly pour a little of the mixture on your hair, either wet/dry it doesn't matter but I first wet my hair.
Then start working it through your scalp and hair with your fingertips to loosen dirt and oils. Repeat until you have covered all areas of your scalp.
Then pour the mixture along the length of your hair while scrubbing and twisting to cleanse.
Rinse off thoroughly with tepid water.
You will need about 7 rinses to get your hair clean. Wring and wrap your hair in a fluffy towel.
You do not need to use conditioner AT ALL! The egg, honey and coconut oil all help naturally condition your hair and make it easier to detangle after air-drying it or using the hair dryer! I was pleasantly surprised to find that I could just use my fingers to easily and quickly detangle my hair after letting it dry naturally for a few hours. Another thing is your hair will feel so clean and SILKY SOFT! No kidding!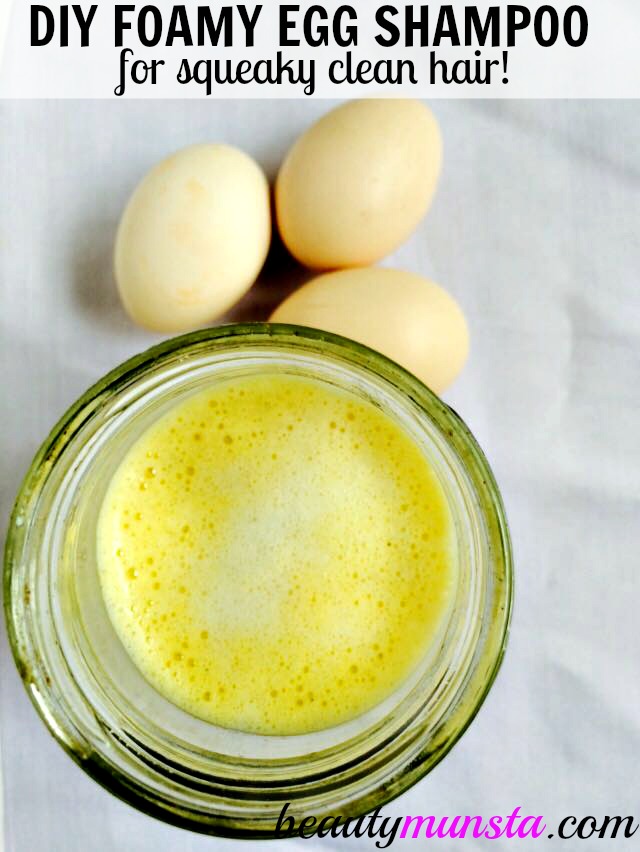 My Tips
Instead of rosemary and lemon, you can use any other essential oils of your choice!
Bentonite clay or kaolin clay can be used in place of rhassoul clay.
Thanks to the bentonite clay and essential oils, this shampoo has no lingering egg smell!
Try These Hair Masks For Luscious Hair: 
How To Do A Weekly Egg Treatment for Hair
Avocado Egg and Olive Oil Hair Mask | For Hair Growth & Shine
10 Best Smelling Essential Oils for Hair
An Easier Egg Shampoo for Hair Growth
DIY Egg Shampoo for Hair Growth