Learn how to make rhassoul clay shampoo right at home with this easy recipe!
Rhassoul clay is a type of mineral-rich clay mined from Morocco in North Africa. It has been used as a shampoo and hair wash since ages ago – and it works! Rhassoul clay has natural cleansing action due to its presence of saponins that make it soap-like when mixed with water.
When you use a rhassoul clay shampoo, you do not need to condition your hair afterwards because rhassoul clay is a natural conditioner as well!
Benefits of Rhassoul Clay Shampoo
All natural and chemical-free
Easy to make & use
Cleanses hair from excess oils, dirt, dead cells and impurities
Reduces greasy scalp & hair
Naturally conditions hair
Makes hair shiny and silky
Softens rough hair
Fights dandruff
Good for soothing irritated scalp
Nourishes the hair follicles with necessary minerals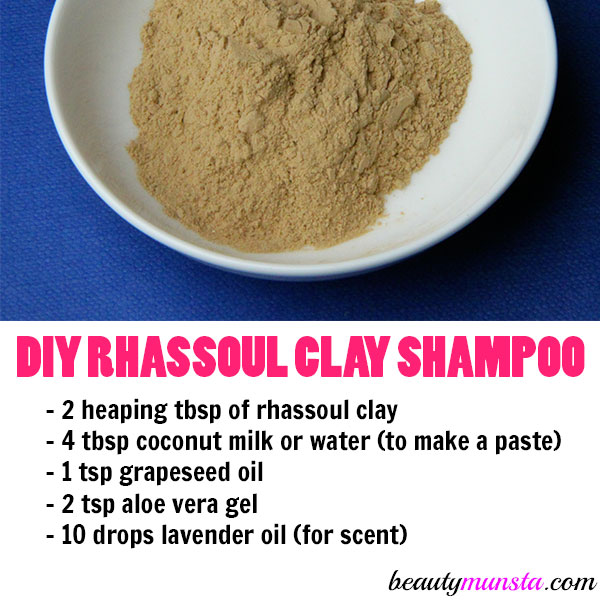 How to Make Rhassoul Clay Shampoo
Ensure to use non-metal utensils when handling rhassoul clay because the metal reacts with the minerals in the clay and makes them lose their potency).
Before we move on to the recipe, let's see the role each ingredient plays:
► Coconut milk – Is a natural hair cleanser, soothes the scalp, nourishes hair follicles, strengthens weak hair and makes hair shiny.
► Grapeseed oil – Has a light consistency that won't weigh your hair down but deeply moisturize it.
► Aloe vera gel – Locks moisture in hair strands, cuts down on the greasiness of this shampoo, soothes the scalp, cleanses hair follicles
► Lavender oil – Gives this earthy rhassoul clay shampoo a fresh floral lavender scent, conditions hair, promotes hair growth, repairs hair follicles
Ingredients
Tools
Directions
In a non-metal bowl, dump in 2 heaping tablespoons of rhassoul clay.
Now add the coconut milk and grapeseed oil.
Stir well until you get a well combined mixture.
Add the aloe vera gel and stir vigorously until mixed.
That's it! Your rhassoul clay shampoo is ready!
How to Apply Rhassoul Clay Shampoo
Take the shampoo bowl with you to the shower.
Wet your hair and squeeze out the excess water.
Section your hair into three parts then scoop up the rhassoul clay shampoo and slather it on your hair.
Also massage some on your scalp.
Leave it on for a couple minutes to soak up dirt and grease then wash off very well using warm water. It needs about 7 – 10 rinses to get everything off. Your final rinse should be in cold water.
Dry your hair and behold shiny, silky and soft locks!