Discover 11 amazing Moroccan red clay powder benefits for hair and enjoy beautiful locks naturally!
I love using clay on my hair because it is hands-down one of the BEST ways to detoxify, deep cleanse your scalp and hair!
There are many different types of clays you can apply to your hair but today, I want to share info about Moroccan red clay powder benefits for hair.
This clay is a legend, guys, literally. It has been mined in Morocco since the 8th century! And the reason why it was mined was for beauty purposes!
Moroccan red clay is actually different from the more famous Rhassoul Clay, which is also mined in Morocco! In my research, I found that Rhassoul Clay is specifically mined from the Atlas mountains while Moroccan Red Clay is just generally mined from Morocco. When you buy Moroccan red clay, it doesn't specify which part of Morocco it's mined from. Rhassoul clay, in my opinion doesn't give hair that same softness & silkiness you get when you use Morrocan red clay. If you want to know more, please go to my post: Morrocan Red Clay Vs Rhassoul Clay
Below, let's look at 7 Moroccan red clay powder benefits for hair. Here's why you definitely should make this natural clay a part of your hair care routine!
11 Moroccan Red Clay Powder Benefits for Hair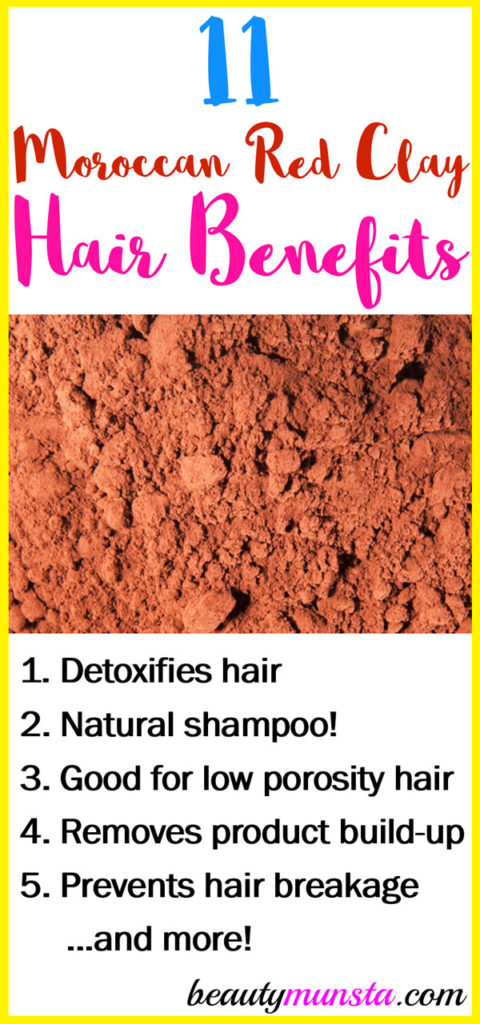 1. Detoxifies Hair
Like many other natural clays, Moroccan red clay has detoxifying properties. This is because it is negatively charged so it easily binds to positively charged toxins, dirt, impurities and gunk hidden in the hair follicles and strands! Isn't that super cool?! That's why natural clays are must-haves if you want to naturally detox your hair!
2. Natural Shampoo
The great thing about Moroccan red clay is that it has been used by Moroccan women for centuries for washing their hair naturally. And it works so well! You might think how the heck can I use clay powder to wash my hair?! Won't it get dirty instead?! No my friends! Moroccan red clay will suck out dirt, excess oils and impurities on the scalp and hair! For how to wash your hair with Moroccan red clay, see this post: How to Make Rhassoul Clay Shampoo
3. Deeply Nourishes Hair
Did you know Moroccan red clay is actually unique compared to other clays like bentonite clay?! How? Well, it is the ONLY clay that is composed of 100% minerals and trace elements! This means it'll feed your hair follicles with amazing nutrients and give it that extra nourishment it needs! Moroccan red clay has a higher mineral content than other clays. It has a high level of silica, potassium, magnesium, calcium and other trace minerals!
4. Stops Hair from Thinning
Because of its super high nutrient content, Moroccan red clay nourishes hair follicles deeply which helps strengthen hair and prevent it from thinning and falling out!
5. Removes Product Build-Up
Are you having a hard time with icky product build-up? It's time to start using Moroccan red clay! It strips away the heavy residue stuck on your hair and scalp, without being too harsh. You can make a build-up removing hair mask as follows:
Mix ½ cup of Moroccan red clay with warm water, slowly by slowly in a bowl with a whisk or your trusty fingers until it forms a smooth easily applicable paste. Now add 2 tsp organic apple cider vinegar and 7 drops lavender essential oil and mix well. Slather the mixture on your whole scalp and hair strands. Wrap your hair up and place plastic wrap or a shower cap on top. Wash your hair after an hour very thoroughly with tepid water!
6. Prevents Hair Breakage
Another amazing Moroccan red clay benefit is that it strengthens hair from root to tip. This prevents hair breakage! So if you have weak hair that easily breaks off, try Moroccan red clay!
7. Good for Low Porosity Hair
Do you have low porosity hair? Allow me to let you in on a secret: low-po' hair LOVES natural clays! I've written about How to Use Bentonite Clay for Low Porosity Hair and the same concept applies with Moroccan red clay as well! That's because natural clays like bentonite and Moroccan red clay negatively charged ions. When you have low porosity hair, it means your hair has an excess of positive ions. These positive ions make your hair dull, frizzy and difficult to absorb moisture/products. So the negatively charged ions will balance out the positively charged ions. For more details, please click the link on bentonite clay above!
8. Conditions Hair
Clays have a natural conditioning effect that leaves your hair fluffy and soft! Try using Moroccan red clay as a shampoo or hair mask and you'll know what I mean. When you use clay, you'll find it so much easier to de-tangle your hair!
9. Reduces Frizz
Is your hair extra frizzy and wild?! Tame it down by using a Moroccan red clay hair mask! It makes hair very soft and manageable compared to rhassoul clay, which doesn't give that same softness to hair. Mix up ½ cup (or more, depending on your hair) of Moroccan red clay in a bowl and add a little by little cooled green tea to form a smooth paste. Now add 5 drops of ylang ylang essential oil. Apply to scalp then rinse off after 40 min. Welcome frizz-free hair!
10. Soothes Scalp Problems
Whether you're having scalp inflammation, scalp eczema, scalp psoriasis or plain irritation from nowhere, Moroccan red clay is a scalp saver! It has soothing properties, removes flakiness, has moisturizing effects and cleanses the scalp well so it's good for any scalp problem.
11. Fights Dandruff
Dandruff can be caused by a dry scalp or oily scalp. No matter the cause, Moroccan red clay is here to help! Mix it up with water to create a smooth paste then add 7 drops of tea tree essential oil. Lather it up on your scalp, wait for 30 minutes then wash off. Continue doing this at least twice a week for a month to see good results!

So what's stopping you from enjoying these amazing Moroccan red clay powder benefits for hair? Try it out and let us know how you love it!