Whip up this homemade facial mud mask as a deep cleansing treatment for your pores!
Did you know that you can make your own homemade facial mud mask right at home? You do not need to go to the spa for this kind of beauty treatment! Making your own mud mask is incredibly easy provided you have the right ingredients – and they're not hard to find!
Before we head any further, mud masks are not made with actual mud! They're made from cosmetic clays but since clays when mixed with water look like mud, they're called mud masks!
Types of Clays and their Benefits
There are several types of natural clays you can use to give yourself a facial mud mask. Here's a list of the most common ones and their benefits:
Bentonite clay – This amazing clay is growing in popularity around the world. It is highly praised for its powerful detox properties. It helps draw out impurities, toxins, heavy metals and other gunk from the body.
Rhassoul clay – For centuries in Morocco, women have used rhassoul clay for mud baths and facial and hair mud masks. It is a unique cleansing clay that is rich in many nutrients and minerals. It is also great for natural hair care!
French green clay – I recently discovered the amazing beauty benefits of French green clay. Did you know that it has that nice green color because it contains plant material that has gone through the cycles of Nature for years before settling into the earth?! It is filled with beneficial nutrients.
White kaolin clay – A soft white clay, kaolin clay is best for soothing and calming sensitive and irritated skin types!
Multani mitti – This unique type of clay is mined in India. It's also called Fuller's Earth. It's a gentle clay that has been used for centuries to cleanse the body and hair. It also has detoxifying properties for skin!
For more information, please see Top 6 Natural Clays for Skin
Homemade Facial Mud Mask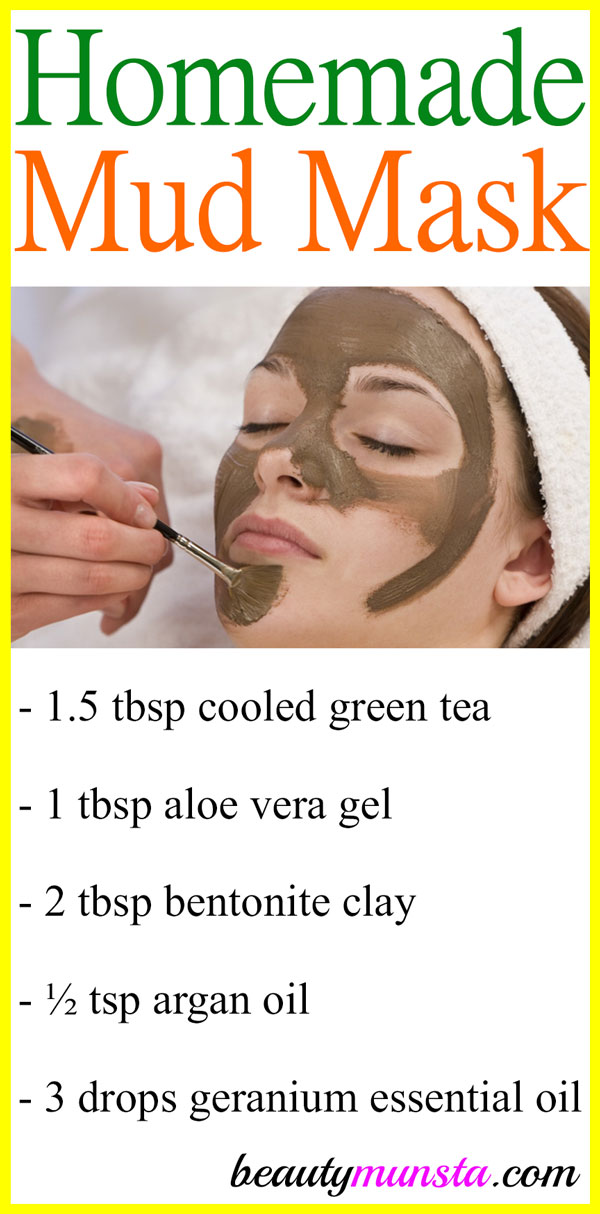 What you need:
1.5 tbsp cooled green tea
1 tbsp aloe vera gel
2 tbsp bentonite clay
½ tsp argan oil
3 drops geranium essential oil
Mixing bowl & spoon
Directions:
In a mixing bowl, add 2 tbsp of bentonite clay or any other cosmetic clay of your choice.
Now add 1 tbsp of cooled aleo vera gel and ½ tsp of argan oil and mix well to form a paste.
Next, slowly keep adding cooled green tea while stirring well to form an easily spreadable mixture.
Finally, add 3 drops of geranium essential oil and stir again.
Apply your homemade facial mud mask onto your clean face and neck. Let it sit for 15 minutes then splash your skin with warm water and remove the mask gently with an old washcloth. You can also remove it in the shower.

Hope you make this homemade facial mud mask and enjoy its skin beautifying benefits!