Discover the 6 natural clays for skin and use any of them for amazing skin and overall beauty!
Did you know that using natural clays for skin is something that has been done since ancient times?! Yes, friends! Mud facials and mud baths are no new trend. In fact, in Morocco, rhassoul clay has been mined since the 8th century just for its beauty benefits!
Okay, let's get on with the list of 6 Natural Clays for Skin and their beauty benefits!
6 Natural Clays for Skin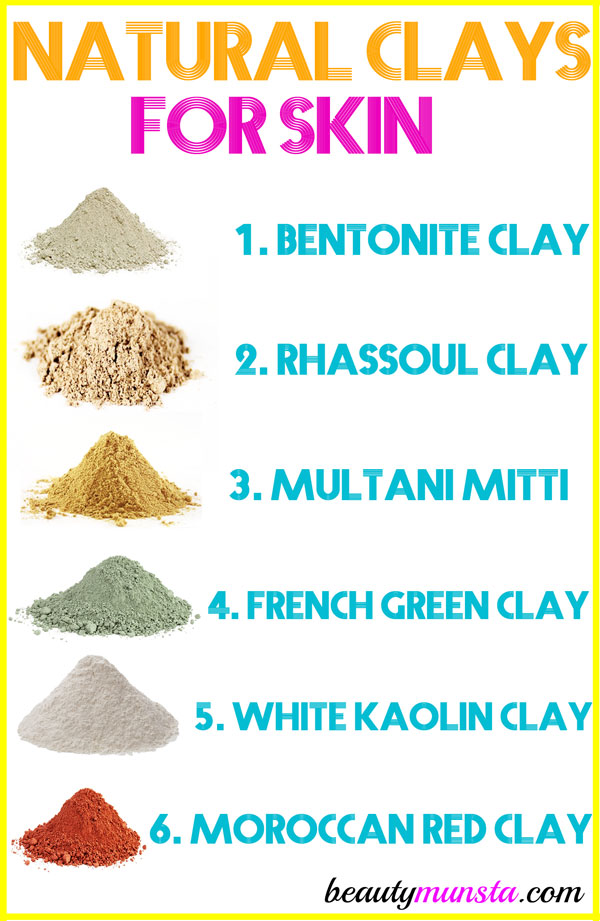 1. Bentonite Clay
Bentonite clay is named after Fort Benton, Wyoming in North America where it was first discovered. It is a grayish colored powdery substance that boasts powerful detox properties. What makes it very detoxifying is the fact that it has negatively charged ions. When used topically or internally, it attracts toxins, heavy metals and other impurities that are positively charged. Bentonite clay can be used as a detoxifying clay mask for blackheads, acne and pore cleansing. Here is my favorite bentonite clay face mask:DIY Bentonite Clay and Activated Charcoal Face Mask
Also Read:
2. Rhassoul Clay
Also known as Ghassoul Clay, Rhassoul clay has been mined for centuries in Morocco where it is a beauty secret for Moroccan women. They use it for full body masks, natural shampoo and more for radiant beauty. Rhassoul clay also has detoxifying properties just like any other clay. It is also famously used as a natural shampoo by mixing it with rose water, argan oil and a few drops of essential oil. Please read:
3. Multani Mitti
Multani mitti is also called Fuller's Earth. It's a less known type of clay but an amazing ancient beauty secret of Indian women. They used it as a face wash, face mask and full body wash for glowing skin naturally! It is widely used as a skin lightening agent and it has been used by Indian women as a natural 'facial bleach'.
4. French Green Clay
French green clay is another amazing natural clay for skin! At one point, French green clay was all mined in France but now it's being mined from other places in the world such as North America, China and Europe. It is a bio-mineral that is made up of both decomposed plant material and trace minerals such as calcium, aluminum, magnesium, silica, phosphorous, copper and zinc. French green clay is beneficial in removing impurities, tightening and toning skin, reducing acne inflammation and more. You can read its beauty benefits here:
5. White Kaolin Clay
White kaolin clay, also known as white cosmetic clay, is amazing for sensitive skin especially! It's very gentle and soothing. It helps draw out impurities from skin pores, reduce inflammation and tighten skin naturally. If you have skin that gets easily irritated, acne prone skin, rosacea or eczema, use white kaolin clay!
6. Moroccan Red Clay
Moroccan Red Clay is a type of clay that's mined in Morocco. It's different from Rhassoul clay which is mined from the Atlas mountains in Eastern Morocco. Moroccan Red Clay is different from Rhassoul Clay in that it has a red muddy color while rhassoul clay has more of a gray color. Moroccan Red clay offers the same benefits as Rhassoul clay: it has detoxifying qualities, it cleanses skin, tightens pores and more. It's especially good for hair, in my opinion as it makes hair softer and silkier than when you use rhassoul clay. If you want to use clay for hair care, please read 11 Moroccan Red Clay Powder Benefits for Hair
Are you interested in trying out any of these natural clays for skin? Share below!