You need this DIY underarm detox to purge toxins, neutralize BO and other benefits as we shall see below!
Who Needs a DIY Underarm Detox?
So an underarm detox seems like something bizarre, right? But it's actually very helpful and good for people who:
Have strong underarm odor
Suddenly get bad underarm odor
Are switching from conventional deodorants to DIY deodorant
Want to give up wearing deodorant
Want to remove heavy metals and toxins from using conventional deodorant
If you fall into any of the above categories, then you're welcome to use this DIY Underarm Detox. It's made up of all-natural ingredients that are powerful detoxifying agents. Get to know them and what they do below:
Ingredients Used & their Benefits
Bentonite clay – This clay is super detoxifying. It does this because it has negatively charged ions that attract positively charged ions that are normally found in toxins, heavy metals and impurities. When bentonite clay is mixed with water, it quickly swells up and becomes highly porous to suck up all the gunk including toxins and impurities in the body. You shouldn't use metal tools like bowl or spoon when handling bentonite clay because the positively charged ions in the metal will neutralize the negatively charged ions in the clay, which will just render it useless.
Apple cider vinegar – Apple cider vinegar is filled with probiotics or good bacteria, that eat up the bad bacteria on your skin. Make sure to purchase raw unfiltered apple cider vinegar, with the mother. This is what is filled with good bacteria that help detoxify your underarms. Do not buy the regular synthetic vinegar found in most supermarket shelves.
Water – This will help thin out the recipe, activate the bentonite clay and reduce the harshness of the raw vinegar.
Rosemary essential oil – Rosemary essential oil is a good essential oil for detox purposes. It stimulates blood circulation and helps get rid of fluid retention. It also has a strong pleasant herbal scent that helps neutralize bad odors.
DIY Underarm Detox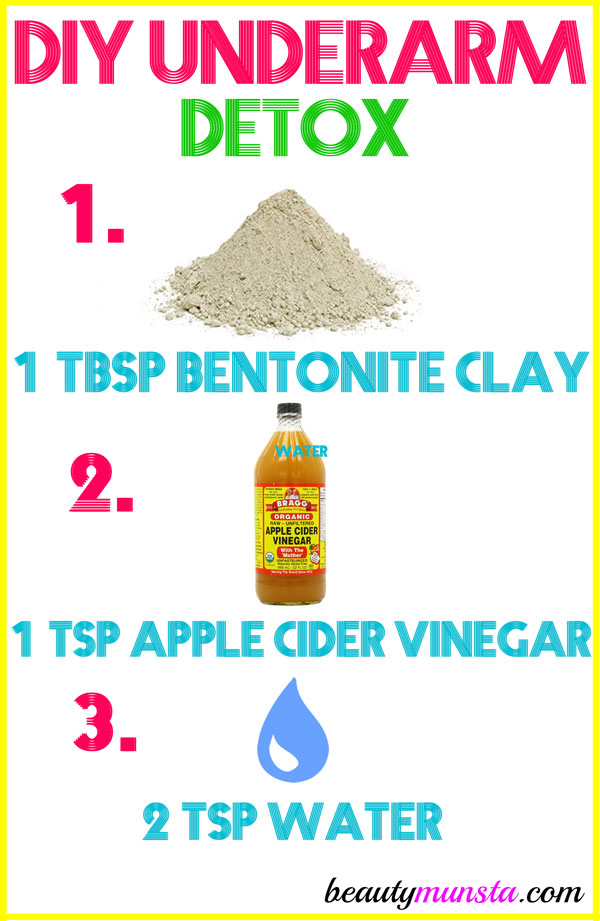 What you need:
1 tbsp bentonite clay
1 tsp apple cider vinegar
2 tsp water
3 drops rosemary essential oil
Glass bowl & plastic spoon (or non-metal bowl & spoon)
Directions:
Get a glass bowl and add 1 tbsp bentonite clay.
Now mix in water, little by little until you get a smooth easily applicable consistency.
Next add 1 tsp apple cider vinegar then 3 drops of rosemary essential oil.
Mix everything well with a plastic spoon.
Apply the mixture onto your clean and dry underarms.
Leave it on to work for 15 minutes then wash off in the shower or with a warm damp washcloth.
Do this for one week without wearing any kind of deodorant. Yes, it might be a daring thing to do but it works well so if you really want results, be consistent friends! If many people have done this, then so can you!
My Tips
You can leave out the essential oil if you want to. Or add any other essential oil of your choice like lavender, geranium, tea tree, etc.
Instead of bentonite clay, you may use another clay of your choice. All clays have detoxifying properties. Good choices are white kaolin clay, rhassoul clay, French green clay and multani mitti.

Please try this DIY Underarm Detox for one week and come share your results!